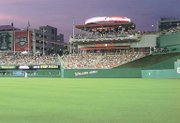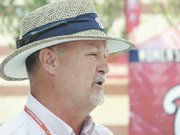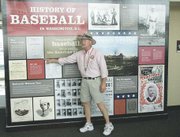 For 50 years, Ron B. Simms played and coached inside baseball dugouts. Now, Simms, 55, dances on top of one for a living.
"I thought 31 years of teaching and coaching was going to be a legacy I'd leave and be proud of," said Simms, who retired from Fairfax County Public Schools and Hayfield High School in 2006.
"Now, I'm just the Sweet Caroline guy," he said.
More than 29,000 Washington Nationals fans wave their arms and sing Neil Diamond lyrics to Simms' routine on top of the Washington Nationals dugout in Sections 127-128 (also shown on the 47-foot-tall flat-screen in right field).
Seeing Simms dance is a wonderful thing for hometown fans; 'Sweet Caroline' is played only when an opponent's pitcher is relieved in late innings of the game.
"Many [of the players] are quite amused," Simms said. "Particularly, Nick Johnson. He likes to see me act a little crazy."
Simms, 55 of Franconia, stood in line with 4,500 other applicants at a Washington Nationals job fair four years ago. He has missed just seven games as an usher since the Nationals' arrival from Montreal in 2005. He hasn't missed any since his retirement two years ago.
"Afternoon games are tough when you're a teacher. You can't just look at your class and say, 'Stay put, I'm going to the ball park,'" he said.
He celebrated his 28th wedding anniversary with his wife Kris in Cape May the weekend of July 4, when the team played a four-game series in Cincinnati.
Simms, who also works part-time for the Fellowship of Christian Athletes and at the Laurel Hill Golf Club in Lorton, greets many, if not most, of the fans that sit in his section on a first name basis.
"The world teaches you that you don't matter. I try to teach that you do," he said.
WHEN THE NATIONALS play away games, Simms still makes Nationals Park his home.
Two times a day, every other day when the players are out of town, Simms leads tours of the park, which benefit the Nationals Dream Foundation.
"I get a thrill to be part of the baseball scene. "There are only 30 [MLB stadiums] in the world, you know, and this is the newest and the coolest as far as I'm concerned," said Simms, who played shortstop at Edison High School where he graduated in 1971 and second base at Bridgewater College from 1971-1975.
Simms' father, a first baseman, was scouted by the Nationals years ago.
Simms comfortably slips into the role of play-by-play commentator about 15 minutes into the tour, when he describes the seventh and final game of the 1924 World Series.
"I try to set the stage for a kind of play, if you will," he said.
Simms details player manager Bucky Harris' decision to bring Walter Johnson out as a relief pitcher for the 9th, 10th, 11th and 12th innings. And he describes and demonstrates a baseball player's motions, showing how errors on a foul pop-up and routine ground balls assisted in the Senators triumph in their one and only World Series title, against the New York Giants.
Only 20 or so minutes later and a few flights down in stadium, Simms slips into a midwestern accent of President Dwight D. Eisenhower, 34th president of the United States. In the President's Club of Nationals Park, a photo shows Eisenhower's childhood baseball team.
"'When I was a small boy in Kansas, a friend of mine and I went fishing and as we sat there in the warmth of the summer afternoon on a river bank, we talked about what we wanted to do when we grew up,'" Simms quotes Eisenhower. "'I told him that I wanted to be a real major league baseball player, a genuine professional like Honus Wagner.
"'My friend said that he'd like to be President of the United States. Neither of us got our wish.'"
"I LEARNED THE LOVE of the game from my father and it just kept going," said Simms, who attended Cal Ripken Jr.'s induction into the Hall of Fame as well as Ripken's famous games 2130, 2131, and Ripken's last game. One of Simms' two border collies is named "Rip."
"You're talking about a guy who grew us as a little boy a huge baseball fan. This is a dream come true."
Despite ushering every one of the Nationals 81 home games, he still purchases season tickets, too. He has also attended games at every stadium in the country.
On July 3, fans from Colorado, Texas, Southern California and from Fairfax Station attended Simms' tour of Nationals Park.
"I loved the stories. He really adds a personal touch," said Peter Melim, whose daughter Lauren took physical education classes from Simms at Hayfield.
"It's his life," said Carol Melim, Peter's wife.
Lauren Melim, a cheerleader at Georgia Tech University, enjoyed seeing him in a different environment still doing what he loves. He was the same way as a teacher. "He loved what he did; he liked being there so it made us like being there," she said.
Simms earned the Agnes Meyer Teacher of the Year Award, and coached his baseball team at Hayfield to the 2002 Patriot District title.
"Everybody imagines, 'what if I got to go pro?' It's cool to sit where actual players sit," said Matt Goforth, Lauren's boyfriend from college, after Simms gave fans time to sit in Nationals dugout and pitch from the bullpen mound.
Fans get a tour of the facility, and Simms gives a seminar on baseball history, both in Washington and the major leagues.
Leading tours is somewhat similar to teaching, Simms said. "You try to connect an emotion, because when there's an emotion connected, there's learning taking place."