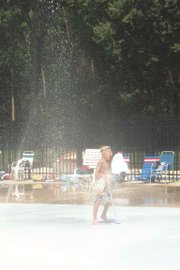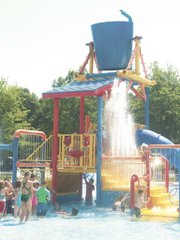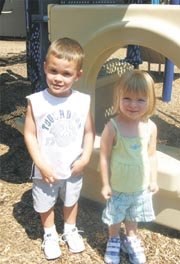 A line formed outside of the Algonkian Downpour Water Park Friday afternoon as Loudoun County citizens of all ages waited to take part in the park's many water-filled attractions. "I like taking my boy to the water park," Maike Rieck of Loudoun County said. "It's so convenient and he just loves it." The park features waterslides, pools and more and is just one of the many ways that residents can take part in the celebration of National Parks and Recreation Month.
SINCE 1985, National Parks and Recreation Month has been a way for people to observe all of the wonderful recreational amenities that their hometowns have to offer. "There are tens of thousands of community parks all over the country. Parks give access to close to home recreation to people of all kinds of backgrounds," Mark Riddell, with the marketing department for the National Parks and Recreation Association based in Ashburn, said. Riddell believes that this month is a time for getting out and discovering your local parks. "A lot of people aren't even aware of the recreational options that their county has to offer. People need to get out and discover what is there and enjoy it."
In Loudoun County, the Parks and Recreation Department is working hard to make this month count. "Like a lot of things that matter in life, sometimes it's good to be reminded of what the parks and recreation have to offer," Claire Smith, with the Loudoun County Department of Recreation and Community Services, said. She sees the month as a way for families to come together. "You can get your family out for little or no money and they can have a relaxing day or a very active day depending on what activities they choose," she said.
Smith also mentioned that it is a great time for senior citizens to realize what the community can do for them. "There are people in their 80s getting out and walking the trails. We also have a wide range of classes for senior citizens at the various community centers," she said.
This summer the county has stretched the celebration beyond July and into August and has planned a full slate of events. The county has organized special monthly trips for families to places like Six Flags and Splashdown theme parks. Separate trips for senior citizens have also been planned and include activities such as museum tours and dinner shows.
EVEN LOUDOUN'S youngest citizens have found a way to celebrate National Parks and Recreation Month. Three-year- old Carly Van Benton played at the park at the Potomack Lake Sportsplex with Ryan Rosenberger, also 3. "I like going to play at the park," exclaimed Carly Van Benton. "I like going to the pool," Ryan Rosenberger said. Potomack Lake Sportsplex park manager Randy House is busier than ever during July. "The big playground equipment is heavily used. Kids are out of school and are always on the move. There are about 50 kids of all ages doing a soccer camp here right now," House said.
The children's parents, Kelly Van Benton and Brigid Rosenberger, have also been taking part in the recreational activities. "I have been living here for three years and there is just a ton for kids to do here. My husband and I love to walk on the trails and my kids have been taking swimming lessons at the pool," Kelly Van Benton said. Brigid Rosenberger agreed. "All of the trails are really great we really like to take advantage of them."
THERE IS STILL plenty of time to celebrate National Parks and Recreation Month. From baseball to swimming and more, there are a huge variety of activities for citizens to choose from that are open to families and individuals of all ages. "There are so many options out there for people. The more that people are aware of them, the more they will be able to enjoy them and eventually grow as a community," Riddell said.