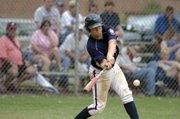 A group of local standouts celebrated the nation's birthday in typical American fashion — by playing in an American Legion All-Star game.
The Alexandria Post 24 and Post 129 teams sent five players to represent the 2008 National All-Stars in American Legion Baseball District 17's All-Star game at Waters Field on July 4. Comprised of high school players from Mount Vernon, Edison, Bishop Ireton and T.C. Williams, the two teams teamed up with Falls Church Post 130, Springfield Post 176 and Fairfax Post 177 to comprise the American All-Stars. They played the best players from Vienna Post 180, Lorton Post 162, Annandale Bicentennial Post 1976 and Centreville Post 1995.
The lone Post 24 representative was pitcher/centerfielder Basil Badley (Mount Vernon), while Post 129 was represented by pitcher/shortstop John Roberston and T.C. Williams' Marc Grosser, Pike Brynildsen and Sam Alexander.
Bob DeLelle, an assistant coach for Post 129, helped Post 177 manager Craig Knoll coach the All-Star team.
As of press time, Post 129 has a 6-12 record, while Post 24 has a 5-13 record. Vienna Post 180 is currently leading with a 14-4 showing. On Tuesday, Post 24 dropped a 9-0 decision to Annandale Bicentennial Post 1976.