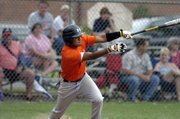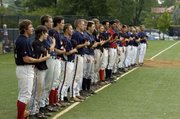 A group of local standouts celebrated the nation's birthday in typical American fashion — by playing in an American Legion All-Star game.
Arlington Post 139 sent five players to represent the 2008 National All-Stars in American Legion Baseball District 17's All-Star game at Waters Field on July 4. Comprised of high school players from Washington-Lee, Wakefield and Yorktown, Post 139's all-star selections teamed up the players from Vienna Post 180, Lorton Post 162, Annandale Bicentennial Post 1976 and Centreville Post 1995 to take on the American All-Stars of Posts 24, 129, 130, 176 and 177.
The five Post 139 representatives were catcher/pitcher D.J. Diethorn (Washington-Lee, infielder Mike Edwards (Wakefield), pitcher/infielder Alex Brown (Yorktown), infielder Matt Demsky (Yorktown) and pitcher/outfielder Adam Webster (Wakefield). Aaron Tarr, an assistant coach for Post 139, helped Post 180 manager Frank Werman coach the All-Star team.
As of press time, Arlington has an 11-5 record, and is in second place behind Vienna, who carries a 14-3 record heading into a Thursday doubleheader. Post 139 will host Lorton Post 162 on July 10 at 7 p.m. at Quincy Field. They will also play twice at home this weekend, first on Saturday at 7 p.m. and Sunday at 2 p.m.