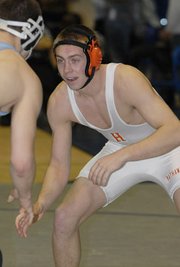 Hayfield's Daniel Mills understands that you need a certain swagger when you step on the mat. The Hawks' 171-pounder doesn't underestimate any opponent, but that doesn't mean that he doesn't think he'll win.
"To win any matches in wrestling, especially the major ones, you have to have a certain level of confidence," said Mills.
After a tough semifinal match, the senior dominated Centreville's Bret Miller, 15-4, to take the Northern Region title.
"In a way, it was a little anticlimactic, just because I geared up so much for it," said Mills.
Teammate Raymond Borja's final match against Robinson's Roman Perryman was far from anticlimactic. Early in the first period, the two wrestlers shot at the same time, causing the grapplers to slam their foreheads, giving Perryman a cut and Borja a lump. Both wrestlers were dazed.
"Both of us were kind of out of it. That wasn't the best performance from either of us, but it is what it is," said Borja. We both let it all on the mat."
The match came down to the final seconds, as Borja scored a takedown with ten seconds left to beat Perryman, 6-5.
"I started looking at the clock. With five seconds left, I was so happy."