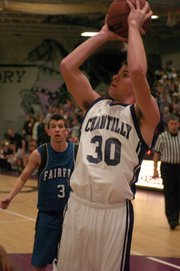 For the third time this season, Chantilly overwhelmed the Fairfax Rebels on the basketball court. Winning previously by 24 and 26 points, the Chargers posted a 31-point victory at home Tuesday night to advance to the second round of the Concorde District tournament, 76-45.
The difference for No. 2 seeded Chantilly (20-2 overall, 11-2 Concorde District) this time around is that they performed in the absence of their longtime head coach. Jim Smith who has coached at Chantilly for 17 years, missed the first game of his tenure due to a death in the family. Smith spoke to the Chargers in the locker room via speakerphone to congratulate them while assistant coach Chris Dux assumed lead responsibilities.
"It went smoother than I thought it would… he did a good job," said junior guard Justin May of Dux.
Chantilly came out smoothly, took a 7-6 lead midway through the first quarter and never let go, holding a 19-8 advantage by the time the first frame finished. The Chargers continued to roll in the second quarter, outscoring Fairfax, (4-19, 1-12), 17-6 to take a comfortable 36-14 lead into the locker room.
"We talked about getting the game up and down, we wanted to play an up tempo game. Even in the second quarter where the game got a little bit sloppy…we still extended our lead," said Dux. "I told the kids at halftime, when the game gets playing fast it's better for us, we may turn it over and get a little sloppy but the tempo, speeding up is better for us than playing it slow."
The Chargers kept the speed up in the second half and utilized most of their roster in the process. A dozen Chantilly players scored points in the win, led by May and sophomore guard Adam Fridy with 12 points apiece. Fairfax junior forward Kabel Moody scored a game-high 14 points but it was not nearly enough.
"It was just missed opportunities. We missed a lot of free throws, they started scoring in transition, they are a good team. If you don't capitalize when you have chances, they're going to make you pay and that's why they are 20-2," said Fairfax head coach PJ Kelly.
Chantilly will get their head coach back and take their sparkling record to the second round, where they will meet No. 3 Robinson on Thursday night at Robinson. The Rams beat No. 6 Oakton 48-35 Tuesday night. One of Chantilly's two losses came at Robinson back on Jan. 10, 52-41.
"We just weren't fired up to play, the atmosphere was really dull. We came out weak. They jumped on us early and we never got a chance to come back," said senior guard Jake Nolan of the last time Chantilly visited Robinson.