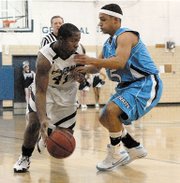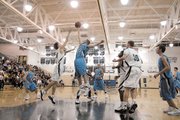 Washington-Lee coach Bobby Dotson just shook his head in disbelief as the Yorktown student section congregated directly behind his bench. Only in this rivalry would a supposed home court advantage turn into anything but.
For the first time in his long career coaching the Generals, Dotson had to conduct every single timeout standing in the middle of the floor thanks to the rowdy Patriot student body. If he didn't, his players had no way of hearing his voice.
It wasn't as if W-L didn't have impressive representation at the game; their student section was equally as large and nearly as loud as their Patriot counterparts. It all fed into an exciting and regional-final like atmosphere that ultimately ended in a 50-43 Yorktown victory.
"This is the way basketball is meant to be played," said Yorktown coach Rich Avila after his team upped its record to 2-4 this season. "You just gotta deal with the pressure, deal with the intensity. That game could have gone either way. Somebody had to win and I'm just glad it was us tonight."
<b>W-L JUMPED OUT</b> to a seven-point lead in the first quarter as the Patriots fought an uphill battle, entering halftime down five. But a quick 7-0 run to start the second half gave Yorktown the lead and the back-and-forth battle was on from there.
"We were a lot more patient in the second half," said senior Kyle Toulouse, who had seven points, three rebounds, and three assists in his second game back from an ankle injury. "In the first half we got down real quick and we wanted to get back into the game, so we just rushed some shots."
The most notable transformation came from senior Simon Kilday, an all-district selection a year ago. After a slow start, Kilday worked his way out from the interior, hitting the offensive glass with a passion in the second half. The success on the inside got his outside game going, helping him finish with a game-high 15 points and 15 rebounds.
"That's the kind of player he needs to be for us," said Avila. "He needs to step up for us and get a double-double."
And as if the odds weren't stacked against Dotson enough with a rowdy student section directly behind his bench, the coach's star player, senior Gavin Treweek, went down with an ankle injury early in the second half that severely limited his production throughout. Treweek finished with just two points, both of which came from the free throw line. Junior Dajon Taylor led the Generals with 12 points and seven rebounds.
"Our best player didn't score and you can't win a game when your best player doesn't score," said Dotson afterwards.
<b>THE GAME GAVE</b> both teams a chance to reflect on just how passionate they are about this rivalry. Treweek said his ankle injury had him on the verge of tears, not because of the pain, but because he thought he might miss his final home game against Yorktown.
Patriot junior Mike Veith, who finished with 15 points and six rebounds, said his basketball season surrounds the two games a year against W-L.
"I wait for it every year," said Veith. "I don't like to lose to W-L. It hurts real bad."
And while both Yorktown and W-L (0-6) are off to relatively slow starts to the season, if both play with the spirit and intensity of Tuesday night going forward, postseason success could be inevitable.
"We just got to keep fighting," said Dotson. "We're not an 0-6 team. We just got to make some shots."
Said Toulouse of his Yorktown team: "We were a really sporadic team through the first six games. We were really hot one game and dead cold the next. We just need to find that balance."
The two teams will meet again on Jan. 27.