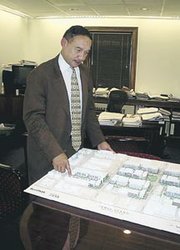 Roy Priest, the outside expert that the Alexandria Redevelopment and Housing Authority (ARHA) turned to on an interim basis when former ARHA Executive Director William Dearman resigned, has become an inside expert on a permanent basis. That was officially announced in October.
With a long and successful background in both public housing management and urban renewal/redevelopment, Priest quickly established a working rapport with ARHA's four primary constituents: Alexandria City Council, the U.S. Department of Housing & Urban Development (HUD), ARHA residents, and ARHA staff. That has produced positive results for the often beleaguered agency and its mission.
"When I got into what it was really going to take to move the agency forward, I realized that I did not want to start something that I was not going to be able finish if I remained on a consulting basis only," Priest said as he discussed his philosophy of urban evolution seated in his North Fairfax Street ARHA headquarters office.
"When I really began to delve into the redevelopment aspects of ARHA I saw that its configuration is much better than most cities I've worked with over the years. Our public housing is well disbursed throughout this city," he said.
A native of the District of Columbia, Priest was with HUD for 17 years in a variety of capacities beginning as the director of Community Planning and Development in the Buffalo, NY, Regional Office in 1980 and eventually becoming the director of HUD's Office of Economic Development from 1990 to 1997. Following his HUD years, Priest founded his own firm, Community Development Concepts, Inc., which provided technical assistance to non-profit organizations and foundations.
"The greatest challenge facing ARHA presently is being able to establish itself as a high performance agency in today's economic environment. How do we sustain ourself with the amount of subsidies we now receive from HUD?" he asked rhetorically.
"If HUD grants don't increase we will just have to learn how to be more self sufficient. We don't receive any operating funds from the city. We never have and I don't foresee asking for any," Priest said.
"Even if the new President said he would return HUD to full funding, we wouldn't see any real increase until 2011 at the earliest. What I'm more optimistic about is the new administration embracing urban issues. But, even that's going to take some time given the many problems facing President-elect Obama," he said.
IT IS THAT KIND of realistic appraisal and approach to the challenges ahead that convinced the ARHA Board of Commissioners that they wanted Roy Priest on a permanent basis — not just as a consultant/interim executive director.
"He has done a tremendous job since he came aboard. And, he has stepped in at a time when we had a lot of demands," said ARHA Board Chair A. Melvin Miller.
"Roy works well with both the city administration and elected leaders. He has already accomplished a lot for us. That's why we hired him," Miller said.
"He has done very well. He has built bridges with the city that have been beneficial. I just hope we are able to stay on our mission," said Ruby Tucker who is retiring from the ARHA Board after 12 years of service.
Their appraisals were buttressed by ARHA Board Vice Chair Carlyle C. "Connie" Ring, Jr. "There is a very good relationship between Roy, the city and the ARHA staff. It's a fair wind that blowing but we have a lot of work to do," he said.
"Roy has brought new talents to bear on our many challenges. He is the link connecting our main constituencies," Ring said.
Priest sees one of his primary initial challenges as changing the perception of ARHA as a functioning agency. "When I arrived, people saw ARHA as a non-participatory agency with other elements of Alexandria City government. I have tried to change that and continue to work on it at every opportunity," he said.
"I have been invited to meetings and community gathering and I have attended as a way of building a better relationship with all the city's residents. I intend to do more of that," he said. "We also need to continue to improve our (ARHA) relations with our own residents."
That has been evidenced through the continuing development of what many see as the second Chatham Square experiment. The next redevelopment of public housing into a combined mixed use of public and market rate housing is taking shape in the James Bland area on the west side of Old Town. "After that project is complete, Bland will have 60 less public housing units," Priest said.
"Forty-four of those are scheduled to be relocated to the Glebe Park/Old Dominion area. We have to find other sites for the 16 remaining units," he said.
IN THE 1970S Alexandria City Council passed Resolution 830 calling for a one for one replacement of any public housing units taken out of the total count. It was in response to a similar HUD rule.
However, when HUD repealed its one-for-one rule, Alexandria kept the requirement. Now HUD is considering reestablishing its one-for-one rule, according to Priest.
Although there were reported troubles between some Chatham Square residents and the residents of Hopkins Tancil Housing, a Section 8 housing development just across North Royal Street, this past summer, Priest points to Chatham Square as a sociological success.
"Inside Chatham Square there is a definite rapport between the public housing residents and the market rate residents. The experiment is working," he said.
"But, Alexandria's demographics are changing dramatically, both in terms of income and ethnic makeup. There are now many non-blacks moving into neighborhood that have been traditionally, primarily black. That is causing a changing housing market," Priest said.
With the present housing market, persons with Section 8 vouchers have more choices that when the market was booming. "We also have begun making direct deposits to landlord bank account for Section 8 vouchers. This has greatly increased the program's credibility and has had a very positive impact," he said.
PRIEST HAS ALSO found Alexandria to be a very welcoming and enlightened city. "I was like a lot of people who live across the river. My wife and I came here only occasionally for dinner or to do some shopping," he said.
Priest and his wife, Sue, have lived in Silver Spring, Md., for the past 36 years. They have two grown sons and four grandchildren who all reside in the Washington Metropolitan Area.
"I have found this last year at ARHA and working in Alexandria to be very educational for me. This is a good open community. That was one of the things that helped me to make the decision to take on this job fulltime," Priest said.
"We have to focus on the people we serve and not just the housing inventory. I hope we will be able to concentrate more on the needs of our (ARHA) residents — to help them move socially," he said.
"We need to change from just being landlords. We need to be able to help with other aspects of our residents' lives," Priest said.