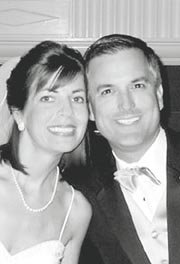 Ms. Kelly Ann McCabe and Mr. William Earle Plyler were married at an evening wedding on Saturday, Oct. 18, 2008, at the McLean Gardens Ballroom in Washington, D.C. Parents of the bride are Mr. and Mrs. Frank P. McCabe of Solomons, Md. Parents of the groom are Mr. and Mrs. James D. Plyler of Greensboro, N.C. Grandfather of the bride is Mr. Thomas D. Read of Solomons, Md. Grandmother of the groom is Mrs. John Laney Plyler of Greenville, S.C.
The bride is a 1988 graduate of T.C. Williams High School, and a 1992 graduate of Washington & Lee University. The groom is a 1984 graduate of Grimsley High School in Greensboro and a 1989 graduate of the University of Southern California.
The bride was attended by co-matrons of honor Ms. Elizabeth O'Shaughnessy of Middletown, Mass., and Ms. Robbin Palmer of Charlotte, N.C. The groom's father was best man, and the groomsman was Mr. Dennis Plyler, brother of the groom, of Concord, N.C. Ushers were Mr. Randy Harris and Mr. Kevin von der Lippe of Greensboro and Mr. Harold McLeod III of Roanoke, Va. Readers were Mr. Thomas McCabe, brother of the bride, of Washington, D.C., and Ms. Charlotte Oleynik, sister of the groom, of Greensboro.
After a honeymoon trip to Maui, Hawaii, the couple resides in Los Angeles, Calif.