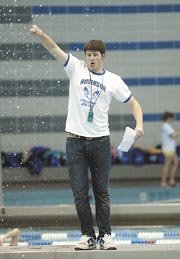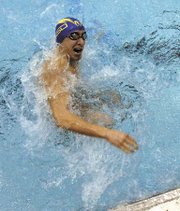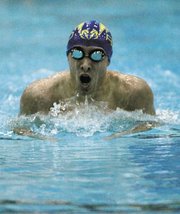 His silver-studded belt, which was trying desperately to hold up a pair of tight, faded jeans, gave Tom Koucheravy away. As the new Robinson swim and dive coach waved his arms, mimicked strokes and shouted words of encouragement from the coach's platform at Oak Marr RECenter Friday night, Koucheravy's shirt continually lifted away from his jeans to reveal his youthfulness.
It was a fashion statement not exactly befitting a 40-year-old man, which, conveniently, Koucheravy is not. After graduating from George Mason in 2007, Koucheravy has taken over for longtime coach Rich Gordon, who stepped down this off-season for personal reasons but not before he molded Robinson's swim and dive program into one of the area's best.
"You should get the kids excited when they start racing," said Koucheravy, 23, of his rambunctious coaching style. "I don't feel like the kids are getting any input when you just stand there. I don't care what kind of silly dance I have to do to get these kids to move fast. … I'll do it."
With a program such as the one his predecessor built, Koucheravy might want to cue the music. The Robinson boys team has won the past six Virginia AAA state titles, and last season the girls squad won its first Northern Region title since 1994. The girls split the region crown with Fairfax and finished second to the Rebels at February's state championship meet.
At Mason, Koucheravy was a three-time Colonial Athletic Association Swimmer of the Year and competed in the 2008 Olympic Trials in the 1,500-meter freestyle, finishing sixth. He still holds several school records, most notably in the 500- and 1,650-yard freestyle events and as a member of the 800-meter freestyle relay team.
"I went to Robinson, so I'm used to the tradition," said Koucheravy, sporting an oversized state championship ring from his senior year when the Rams won the first of the sixth consecutive state titles. "For the more elite swimmers, I feel like I can get their respect, and for the kids who aren't year-round swimmers I'm very good at giving them the basics just to get them to swim well."
<b>DESPITE THE</b> losses of Derek Bui, Tim Wingert and Matt Krebs, Robinson should have more than enough talent to keep the tradition alive. Koucheravy will look to seniors Geoff Bobsin, Robbie Munch and Joe Zanellato, all of whom delivered strong showings Friday night during the boys team's 182-133 win over Fairfax.
"Gordon had very competitive practices, but [Koucheravy's] practices are considerably harder," said Munch, who finished first in the 50 freestyle and swam both anchor legs on the first-place 200 freestyle and 200 medley relay teams. "I was upset at first that coach Gordon was leaving, but Tom is a very good choice. And I'm really glad he pushes us."
The Robinson girls team will look offset the losses of Hailey Hewitt, Allison Baker and Lauren Kranz with seniors Amanda Kendall and Madison Rupp and juniors Christine Canty and Hannah Walden. Rupp had two individual wins during the team's 167.5-147.5 victory on Friday. She also swam the anchor leg on the first-place 200 freestyle relay team along with Walden, Christine Canty and her younger sister Rachel. Kendall missed the dual meet with a club team commitment.
"We're a team and we keep each other motivated for help and support," Christine Canty said. "Losing states last year put our hopes down because we though that was our only chance at winning states, but now we have a whole new group of girls and we hope to win."
Koucheravy has had his own adjustments, too.
"I'm not used to answering 50 e-mails a day," Koucheravy said of the biggest adjustment since taking over for Gordon. "It's gone pretty smoothly, but it's just been a matter of knowing when to turn paperwork in on time because I'm not exactly the best planner on Earth."