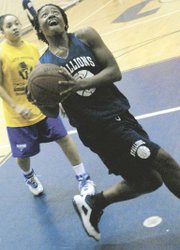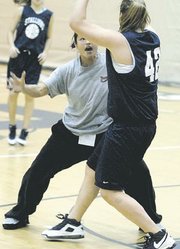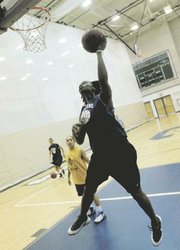 It started with a simple, logistical conversation when Chrissy Kelly and Andy Jimmo met for the first time during an in-service day earlier this school year. In the South County auditorium, Kelly, the new girls basketball coach, and Jimmo, the fourth-year wrestling coach, needed to determine who would have access to the weight room on what days and at what times.
Both wanted that coveted after-school slot and agreed their teams could split the equipment and the time rather easily. What started as a simple sharing of space quickly developed into something more.
The two teams began to not only share the same weight room but the girls started to adopt some of Jimmo's wrestling workouts. Every Monday, Wednesday and Friday, Jimmo would put the girls through a program that had them lifting and flipping truck tires, swinging sledge hammers and carrying bags of sand.
In addition to open gym every Tuesday and Thursday, the girls would run up and down Silverbrook Hill with the boys, a hilly stretch of road that runs right past South County and the site of the former Lorton prison.
"Energy, drive and mental toughness were all things that I felt were necessary for them to develop in the off-season," Kelly said. "The whole purpose of my kids working out with the wrestlers is because wrestlers have a very different mentality, and they have a very different work ethic."
<b>IT SOON STARTED</b> to circulate around school that the girls basketball team was working out with the wrestling team, and, to dispel the immediate misconceptions, no actual wrestling was involved. It was just conditioning. And it was conditioning that made the girls stronger.
"Some days it really sucked," said junior guard Fatu Conteh. "But it just taught me never to give up because if I can go through coach Jimmo, I know I can go through anybody, especially coach Kelly."
"We toughened up because the wrestling coach wasn't easy on us, and he made us do everything he made his wrestlers do," said junior guard Lauren Adams. "It was hard. Every day it was something different. You were always tired and sore."
To an outsider, the idea of a girls basketball team training with a wrestling team might seem strange, but not when one gets to know Chrissy Kelly. A 1991 graduate of West Potomac High School, Kelly went on to become a four-year starter at Division I Charleston Southern University.
Kelly still holds the career record for points (1,750) and assists (504) at the school and those are only two of many career, season and single-game marks that bear her name. She was named the 1995-96 Big South Player of the Year and nearly two years after graduation went into coaching.
She spent two seasons at Mount Vernon before becoming the head coach at Forest Park in Prince William Country, where she transformed a moribund program into a state contender, compiling 143-43 record and winning two Virginia AAA state titles. She was even hired at George Mason University and spent one season with the Patriots before a coaching change cut that opportunity short.
Everywhere Kelly has coached, she has won. And she's done so with a basic emphasis: defense.
"Defensively it's five on one, so it has to be a team concept," Kelly said. "You're guarding one basket and defending one basketball, and in the process there are four other people that are revolving around that situation. You have to learn to read where you're supposed to be and what you're supposed to do as it all happens."
<b>THROUGH TUESDAY</b> the Stallions had started 5-0, with wins over area powers Mount Vernon, Langley and Centreville. South County squared off Lee on Tuesday, which ended after The Connection went to press. South County had allowed only 40.6 points per game and had nearly matched its win total from a season ago: six.
"Having a new coach that pushes us really helps, and she knows a lot about the game," said sophomore guard Alex Brown. "We probably spend 90 percent of practice on defense and it really does help in games."
"She expects more from us," sophomore forward Simone Antwi said. "So we have higher expectations from ourselves, too."
Kelly isn't a coddling, be-your-friend-type of coach and was well aware of the effect that her style could have on a fragile team. That's why she was heavily in favor of the wrestling idea, even if it sounded a bit impractical at first.
"I know that a big part of this game is mental," Kelly said. "The basketball aspect will eventually come, but being able to mentally last through a game without folding is critical, and I know they had some tough games last year. Getting them over that mental hump was going to be, first and foremost aside from playing defense, the biggest challenge that we were going to face."