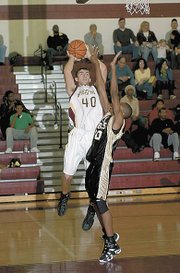 The winter high-school basketball season could not have started much better for the Broad Run High boys and new head coach John Costello. The Spartans, following last Friday night's 75-70 Dulles District home win over Briar Woods, were a perfect 5-0.
Costello, who was hired last spring to take over the program following former head coach Larry Boomer's decision to step down, is no stranger to Broad Run basketball. He was a part of coach Boomer's staff for several years and was the program's freshmen boys head coach the past three years.
Boomer, the former coach, led Broad Run to Dulles District titles in both the 2005-06 and 2006-07 seasons before the Spartans struggled at 12-13 last year.
Costello said Broad Run basketball is more than winning and losing games.
"I'm trying to make a difference in their lives and coach Boomer was the same way," Costello said.
<b>ON THE COURT</b>, Costello, who said he has a team full of good athletes, will stress playing hard, intense basketball. Team depth will be a strength this season.
"We'll use 10 guys a quarter," said Costello, who was the Broad Run High girls basketball coach for three years in the late 1990s.
Costello has been around most of his players the past several years as a part of the program's coaching staff and has a good feel for his team. As a result, the transition from assistant to head coach has gone smooth.
"I've been around these kids a long time and that has been a huge advantage," he said. I've seen them [play] as freshmen."
Broad Run received a nice addition of players and firepower in its recent non-district, 68-55 home win over Ashburn rival Stone Bridge Dec. 10. That win, in which the Spartans improved to 4-0, saw the return of several Broad Run football players who had not been able to compete on the hardwood because of the football team's extended fall season that resulted in a state title.
Costello said the football players — seniors Breon Earl, Didier Saidi, Kevin Sandersen and Will Field — reported for their first basketball practice Dec. 8 and were ready to get some playing minutes against Stone Bridge.
"They didn't start or anything, but they played some good minutes," said Costello, who used the football turned hoopsters off the bench against the Bulldogs.
Costello said the win over Stone Bridge was a well played, solid overall game for his squad, which built a 32-24 halftime lead.
"We rebounded hard and defended hard," Costello said.
Broad Run's top scorer in the win was 6-foot-4-inch junior swingman Kevin McGaughey, who tallied 14 points. Also contributing to the balanced attack were sophomore guard-forward Taylor Johnson (13 points), senior guard Tim Sanders (10) and point guard Earl (8).
Stone Bridge, 3-2 following the loss to the Spartans, was led by senior forward Ricci Patrick (13 points).
<b>MCGAUGHEY, A</b> part-time starter last year, brings a lot to the Spartans' lineup, both close to the basket and away from it.
"He can face the basket and knock down the 20-footer," Costello said. "He's a good rebounder and he can handle [the ball] if we need him to. He's real good on the wing and he'll play down low sometimes and take the other teams' biggest player most of the time."
The Spartans will have a good backcourt with Earl at the point, along with fellow seniors Wes Malchev, Greg Snow and Sanders all playing guard positions.
Sanders, a standout lacrosse player who did not play basketball last year, recently earned a scholarship to play lacrosse at Sacred Heart University (Fairfield, Conn.).
"He's a very athletic kid with lots of speed," Costello said of Sanders.
Other members of the team and players who will have their chances to contribute are Johnson, junior wing Ahmad Zasar, a member of the junior varsity team last year, sophomore Eric Hiatt, the team's backup point guard and versatile junior Nick Salgado, who can play about anywhere Costello asks.
Ten different players scored points in the win over Stone Bridge. Costello said any one of a number of players can step up and give the Spartans a huge lift in any game.
"It can be any kid a night, that's the beauty of it," said Costello, pleased with his team's solid depth. "I wouldn't want to have to defend us. Right now, we're not on anybody's radar and the kids love it and are playing with confidence."
In district action this week, Broad run was scheduled to play at Freedom, Tuesday, Dec. 16, and home against Heritage, Friday, Dec. 19.
Over the Christmas holidays, Broad Run will compete in a holiday tournament at Stone Bridge, Dec. 26, 27 and 29. The four-team tourney field will consist of Loudoun Valley, Dominion, host Stone Bridge and the Spartans.