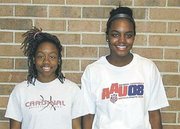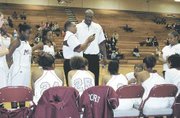 It was clear to first-year Mount Vernon girl's basketball coach Terry Henderson early on in the preseason that he had inherited a much better team than just about anybody anticipated.
The only problem is six games into the season, he's no longer the only one thinking that way. And the Majors have no one to blame but themselves for losing that under-the- radar status. That's what happens when in a matter of four days a team beats a 1st-team Parade All-American (T.C. Williams' Tierra Ruffin-Pratt) and outscores an opponent 40-5 in the first half (last Saturday's win over Hylton).
"I try not to mention it too much, but I do touch on it a little bit so that they have something to reach for," said Henderson of how he's dealt with the growing expectations for his 5-1 team. "I let them know we haven't done anything yet, we're not there yet, we're not good yet, but the possibility and the potential are there."
Led by junior Tracey King, an all-district selection last season, and buoyed by the arrival of Paul VI transfer and point guard Jalinda Venable, the Majors have quickly established themselves as one of a short list of legitimate contenders in the Northern region.
<b>IT'S ALL</b> the more shocking since Mount Vernon was adjusting to a new coach and a new floor leader in Venable. The team's lone blemish came on opening night when it dropped a 70-69 contest against South County.
"We practice hard so when it comes to the games it's easy," said King.
Added Henderson: "Everyday is something new and they've accepted me and they've really just bought into my system of defense first."
The intensity guarding the basketball was on full display last Saturday night when the Majors pounded Hylton, 77-20, a game they opened on a 27-2 run. Mount Vernon's full court press caused 18 turnovers in the first half alone.
At the forefront has been the junior combination King and Venable. The duo combined for 41 of Mount Vernon's 76 points in the upset win over T.C. Williams, and have paced the team all year. King is averaging close to 22 points per game, while Venable is scoring at around a 13 point per game clip.
Venable's transition has been especially seamless since she grew up playing AAU with King and many of the other members on Mount Vernon's team this season.
<b>"MY GOAL</b> is to make sure our team keeps bonding because we need all 12 of us to keep going further versus just the five of us who are playing the most," said King. "We just need everybody to work together."
It seems, though, with a roster featuring just two seniors and eight juniors, the days of the Majors skirting the spotlight are all but finished.
"They're working hard, they're unselfish, and it's translating into some wins for us," said Henderson. "They're all willing, one through 12, to do whatever it takes."
Mount Vernon looks to improve to 6-1 on the season when it opens National District play Tuesday night against perennial power Edison. The game ends after the Gazette's press time.
More like this story