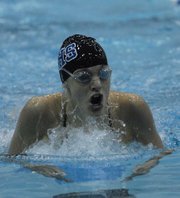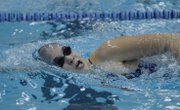 When the last fist pounded its last locker and the pre-meet chants settled for a moment, the Robinson boys swim and dive team poured out of the Oak Marr RECenter locker room Friday night and headed straight for its dual-meet opponent, the Fairfax Rebels.
Fairfax greeted Robinson with several cheers of its own, and the two teams combined for a moment of noise that would've made a football game sound like background noise.
"It gets us pumped up and ready to go," Fairfax senior Alex Price said of the verbal exchange. "It's our trademark."
In good fun, the four teams — boys and girls together — spent the next five minutes exchanging boisterous chants directed at one another. The moment didn't turn nasty and it's a regular occurrence at meets such as this one, but nobody would've blamed the two teams for venting a little bit with one another.
As expected, the Robinson boys earned a 182-133 win over Fairfax, as the girls scored a significant upset, 167.5-147.5.
While the Fairfax girls and Robinson boys teams both won state titles this past February, both coaches, Matt Salerno of Fairfax and Rich Gordon of Robinson, relinquished their positions in the months that followed.
Salerno left to become an assistant coach at Davidson College and Gordon stepped away from coaching altogether, leaving the Rebels to assistant coach Meredith Harris and the Rams to 23-year-old Tom Koucheravy, who graduated from nearby George Mason and is a Robinson alum.
"The biggest thing is just the chain of command for the kids," said Koucheravy, who had his own storied career at George Mason and finished sixth in the 2008 Olympic Trials in the 1,650-meter freestyle.
<b>FAIRFAX GRADUATED</b> three of its top eight swimmers from a year ago, losing Laura Benevento, Kristina Massie and Emily Ferguson from the state champion 200-yard medley relay team but the Rebels still return Ellyn Baumgardner, Theresa Harvey, Frances Dowd and Jean DeOrnellas. Kelli Stockton will also be an asset in the diving events.
That foursome will provide the Rebels with a steady stream of points this season not only the 200-medley relay but in the 400-freestyle relay as well. Baumgardner (breaststroke, individual medley), Harvey (200 freestyle), Dowd (breaststroke) and DeOrnellas (freestyle) have their specialties as well.
"We won states and that's awesome, but we need to focus on this year and accomplishing the goal that we set for ourselves," said Dowd, who also runs for the school's indoor track and field team and has a scholarship to run at Virginia Tech next year.
"I don't want them to think that we lost three girls and that they can't do it again," said Harris, who swam in high school at Hayfield. "I think they have it in them and can do it again."
The stiffest competition that the Fairfax girls team will face this season may have come on Friday night. Robinson, which won its first Northern Region title since 1994 last season when it split the honor with Fairfax, lost Hailey Hewitt but returns several key swimmers including seniors Amanda Kendall and Madison Rupp and juniors Christine Canty and Hannah Walden.
Rupp posted a pair of first-place finishes, while also combining with Canty and Hannah Walden on the victorious 200 freestyle relay team. Kendall missed the dual meet with Fairfax due to a club commitment.
"We're a team and we keep each other motivated for help and support," Canty said. "Losing states last year put our hopes down because we thought that was our only chance at winning states, but now we have a whole new group of girls and we hope to win."
<b>WHILE THE</b> Robinson boys team may still hope to win its fair share of meets, the program Gordon created operates with more of an expectation to win than anything. The Rams have won the past six Virginia AAA state crowns and this year's group doesn't want to become the first group since Koucheravy's junior year not to.
The Rams lost speed with swimmers like Tim Wingert and Derek Bui, but seniors Geoff Bobsin, Robbie Munch and Joe Zanellato all scored wins against Fairfax and, if Koucheravy's new, difficult practice structure serves as any indication, they should have Robinson competing for a region title down the stretch.
"I feel pressured to uphold the Robinson tradition," said Munch, who finished first in the 50 freestyle and swam both anchor legs on the first-place 200 freestyle and 200 medley relay teams. "All the great people that came before me, I look at them and feel inspired because I know I can do it."
The Fairfax boys team lost only two meets last season, which equated to the best season for the Rebels in nearly 15 years, but it was mostly overlooked because of the girls team's string of success. But nearly two hours after Price led his team through the pre-meet hysteria, the Rebels proved that they might be a force to be reckoned with as well.
"We've been trying to prove our team now for a couple years, always being in the girls' shadows," said Price, who posted third- and fourth-place individual finishes and swam on the second-place 200 and 400 freestyle relay teams. "This meet was a big meet for us to come out and prove our power and emergence in the region."