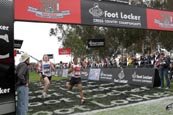 When Edison senior Leoule Degfae arrived in San Diego last Thursday afternoon, he was greeted at the airport and eventually arrived at the Hotel del Coronado to meet with a group of the nation's top cross-country runners. Degfae was awestruck.
To discuss race and training strategies with a group of the nation's elite, Degfae felt privileged just to be part of their company and listened intently to every word that was spoken.
And after finishing 12th at the 2008 Foot Locker Cross-Country Championships on Saturday afternoon, Degfae no longer viewed himself as an outsider. He's now one of the country's top runners.
"I'm so thrilled about it," said Degfae, who finished the 5K course in 15 minutes, 46 seconds. "It took a long time to get here, and to consider myself an All-American … I can't even believe it."
Eighty runners from across the country convened in California for the three-day event, with Sherwood High School (Md.) senior Solomon Haile (15:15) and Jordan Hasay (17:22) of California taking home the titles. Hasay, who won back in 2005, became the first runner to win the event twice.
Regional races in Kenosha, Wis. (Midwest), Bronx, N.Y. (Northeast), Charlotte, N.C. (South) and Walnut, Calif. (West) determined the field, which consisted of the 10 fastest boys and the 10 fastest girls from each site. At the South Regional on Nov. 29, Degfae finished fifth with a personal-best time of 15:04.
<b>SEVERAL TEAMMATES</b> joined Degfae at the South Regional, including National District champion Myah Hicks. Only a sophomore, Hicks won the freshman/sophomore race with a time of 18:31. Freshman Tara Tinsley placed 13th and sophomore Laura Hutchinson took 19th, while senior Betel Yosef placed 18th in the junior/senior race. All four girls earned All-South honors.
"The team as a whole did very well," said Edison cross-country coach Bernadette Flynn, who traveled to California to watch Degfae's race. "I think it helped [Degfae] to have such a big part of the team there for support."
Degfae owned the Northern Region cross-country scene this fall. With a first-place finish along the 2.98-mile course at Burke Lake Park for the National District championships on Oct. 11, Degfae ran a personal-best time of 15:13.
A week later at the Northern Region meet on the same course, Degfae cut nearly a second off that time with a mark of 15:12, becoming the first region champion at Edison since George Watts accomplished the feat in 1973-74.
At the Virginia AAA state meet in The Plains on Oct. 30, Degfae broke his personal-best mark on a 5K course, claiming third with a time of 15:29.
Degfae has expressed interest in running at either Virginia Tech or the University of Tennessee and plans to visit Knoxville around the end of December.
"Every goal that we've set, he has reached," Flynn said. "From freshman year until now, setting his sights higher one level at a time, he has kept doing it."