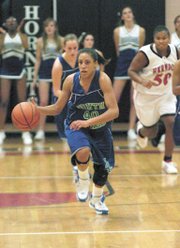 When South Lakes High girls basketball coach Christy Winters Scott looks at her top three players — seniors Kelcyn Manurs, Kacey Liscomb and Jasmine Jones — she can't help but think of the Washington Wizards' leading trio of Gilbert Arenas, Caron Butler and Antawn Jamison.
The South Lakes trio is talented and each is a team leader with their own individual personalities. In the same way, the Wizards standouts are their NBA team's best players and, when all are healthy, make Washington competitive.
"I like our big three to the Wizards' big three," Winters Scott said.
The coach compared Manurs, a guard, to the flamboyant Arenas.
"She's like Gilbert," Winters Scott said. "She plays loose and gets the job done and lets it ride."
Liscomb, also a guard, brings a brand of toughness to the floor like Butler, currently Washington's best overall player. Winter Scott said, like Butler, Liscomb is determined to stop an opponent on the defensive side of the floor.
And Jones, a guard-forward, has the demeanor of Jamison, a player who lets his on-court play do the talking. Jones does not need to be in the spotlight, she just wants to help the Seahawks win games.
"She's extremely productive," Winters Scott said of Jones. "She's really stepping forward."
The South Lakes threesome is serving as team tri-captains this season.
South Lakes (3-0) is determined to qualify for the 16-team Northern Region playoffs this season. A year ago, the Seahawks finished 11-11 overall and barely missed a region seeding when they lost to McLean by three points in a first-round contest of the Liberty District tournament.
All five of South Lakes' starters from last year's team are back this season and Winters Scott said the squad absolutely believes good things are ahead.
"They've already made it their vision to surpass what we did last year," Winters Scott said. "It's kind of a now-or-never situation. It's real good to see their confidence level is to a point where they can voice [their confidence]. They really believe they are going to regionals this year. They're ready to go."
<b>SOUTH LAKES</b> is certainly off to a good start. The Seahawks won three games to start off the new season last week. Last Tuesday they defeated non-region opponent Heritage (Leesburg) at home, 52-28. Jones led the winners with 17 points, while senior forward Lachelle Wallace tallied 11. Liscomb and Manurs scored seven and six points, respectively.
Then, last weekend, South Lakes took part in the Park View (Sterling) Tip-off Tournament Friday and Saturday. The Seahawks handled Potomac Falls, 56-37, Friday, then defeated host school Park View decisively the following night. Both Potomac Falls and Park View are members of the Dulles District.
Manurs scored 20 points with seven rebounds in the win over Potomac Falls. Liscomb (12 points) and Jones (11) were also both in double figures.
Winters Scott said her team members improved tremendously by working hard on their games during the summer and fall. The Seahawks captured the Falls Church Summer League championship, going 11-2 overall in the league. The team's summer coaches were Kia Cole and Erin Arnwine.
Winters Scott said the Seahawks gained confidence in winning the Falls Church league title.
"They each got championship T-shirts," Winters Scott said. "I was so proud of them when they accomplished that."
Wallace, the team's 5-foot-11-inch frontcourt player, has impressed Winters Scott with her play early on this season.
"Lachelle Wallace has improved tremendously," said the coach. "She's just been playing phenomenal basketball."
Along with being a confident team right now, the Seahawks work well together on the floor, the result of having played with one another in recent years.
"The chemistry and flow on the team is really pretty," Winters Scott said. "The experience, knowledge and intensity level is there."
South Lakes was scheduled to play a home game earlier this week Tuesday against Hayfield. This Friday night, the Seahawks will meet cross-town rival Herndon in a home game at 5:45 p.m. That game will be followed by the South Lakes-Herndon boys' contest as part of a doubleheader basketball night at South Lakes.