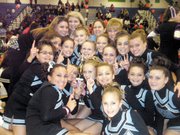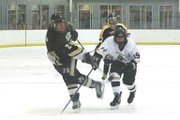 <b>Wildcats Edge South County</b>
Behind a historical effort from junior Warren Denny, who posted a career highs in both rebounds (17) and assists (8), the Centreville boys basketball team earned a 69-56 win over South County. Denny also contributed a game-high 23 points. Senior Kareem Worthey had a career-high 11 points, including nine in the fourth quarter. As a team, the Wildcats shot 46.7 percent from the floor and 57.1 from beyond the arc. With the win, Centreville improves to 1-1 this season, avenging a 55-52 loss to Wakefield on Dec. 2. The Wildcats travel to Falls Church Thursday night.
<b>Panthers Suffer Late Loss</b>
In Northern Virginia Scholastic Hockey League action on Sunday, Dec. 7, Paul VI suffered a 6-5 loss to Westfield at the Ashburn Ice House. With the game tied at five in the third period, Westfield scored on the power play with 2 minutes, 28 seconds left to pull ahead. Despite the loss, junior Nick DiBiasio recorded his first hat trick of the season. The Panthers will hit the ice again on Friday, Dec. 12 at SkateQuest of Reston when they face off with McLean at 9:40 p.m.
<b>A Performance to Remember</b>
Members of the Paul VI dance team recently traveled to New York City to perform in the Macy's Thanksgiving Day Parade. The girls attending were seniors Liz Carter, Erin Steele, Lindsay Godbout , Lauren Madelmayer and Katie Roper, and they performed with the Spirit of America Cheerleaders, a group of 650 officers from dance and cheer teams from across the country. "It was an amazing experience, dancing in the parade," Godbout said. "The rehearsals prior to parade day were rough, but it was definitely worth it to perform." The team has also attended the Big Apple Classic, a competition hosted by the National Dance Association where the Panthers won three first-place awards.
<b>SYA Extreme Takes First Place</b>
The new competition squad for the Southwestern Youth Association (SYA) Extreme was awarded first place in the Youth Small Recreation division in the 2008 Olympia Cheer and Dance competition on Saturday, Nov. 8. The competition was held at South Lakes High School and drew cheerleading squads from all over the Washington, D.C., metro area, as far south as Newport News and as far north as Prince George's County. The SYA team is off to a great start and will be competing through March with its final competition (the area's largest) at George Mason's "Battle of the Capital" on March 22.
<b>Registration Open for Tennis League</b>
The Northern Virginia U.S. Tennis Association Super Duper (over 70) Men's Doubles Tennis League is open for registration for the season scheduled to begin in March 2009. Play will be at the Regency Sport and Health Club on Old Meadow Road, Exit 46-B off the Beltway. For further information, contact League Coordinator Edward Bernier at EdwardBernier@aol.com.