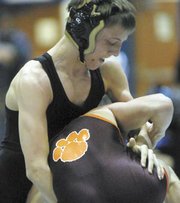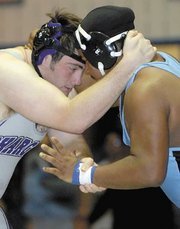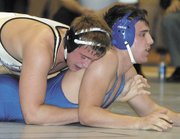 Depending on who you ask, early-season wrestling tournaments such as last weekend's Northern Region Wrestling Classic can result in an exhausting or celebratory weekend and sometimes even both.
Since the 32-team field contained most of the grappling contenders in the Northern Region's public and private school ranks, it can serve as a barometer for what a team and its wrestlers need to improve upon during the course of the season.
Others just want to make it through what can sometimes feel like a never-ending parade of wrestling, with those relegated to the consolation rounds battling through six and sometimes seven bouts before their tournament is complete.
Judging from the tired expressions of more than 430 wrestlers that competed in approximately 840 matches over two days at Fairfax High School, it took a heavy toll on all of them.
"It's tiring," admitted Chantilly's Chris Cabe, who pinned Chris Dean of Centreville only 1 minute, 51 seconds into the heavyweight bout. "I've been to bigger tournaments, but this one's so early in the season."
<b>PERHAPS THE</b> best example of the two-day tournament's brutality would be Westfield's Austin Fallon. At the end of his 189-pound match with Robinson's Marcus Hathaway, Fallon was slammed to the mat.
Though the takedown came too late and Fallon held on for a 1-0 win, he suffered a partial dislocation of his knee. It's an injury that had happened before to Fallon, but it wasn't exactly one he was eager to experience again.
"At this point, if I could give the other guy the match and take back the injury, I would do it," said Westfield coach Chuck Hoskins. According to Hoskins, the Bulldogs were missing 10 wrestlers on Saturday with various "setbacks."
"When we got here, I was really concerned about our wrestling shape because we hadn't been able to train like we normally do," Hoskins added. "In light of that, I'm extremely pleased."
As a team, Westfield had won three out of the past four Northern Region Classics, holding off rival Robinson each time to do so. But with the losses, Robinson held off Westfield 222-194.5.
"It's a good start," Fallon said. "It sends us off on a positive note, so we have confidence going into the season."
In addition to Fallon's first-place effort, the Bulldogs benefited from Jeremy Ryan's 112-pound win. He edged out Andrew Nicely from William Byrd, 4-2.
"A lot of my teammates have won this before me, and I just wanted to be part of it," said Ryan, who finished third in both the Concorde District and Northern Region last winter. "This is a huge start to my season. It gives me a huge motivational boost to beat kids from all over."
<b>IN OTHER TOURNAMENT ACTION,</b> Chantilly finished ninth with 100.5 points; Centreville was 11th with 96.5. … In the 152-pound final, Westfield's Nick Grinups lost to George Mason's David Ray but finished second overall. … Jarrod Branch (125), Kyle Arnold (135) and Kevin Koch (160) of Westfield all posted third-place finishes. … In addition to Dean's second-place effort, Centreville received a pair of fourth-place finishes from Jackson Islin (140) and Martin Seneca (189), while Dan Johnson finished fifth in the 215-pound weight class. … Westfield's Brandon Berling finished fourth, and Lloyd Tenagalia (125) and Jack Carlson (145) of Chantilly finished fifth.