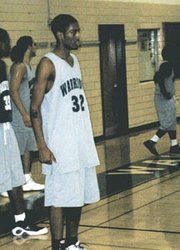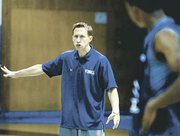 Whatever level of basketball a team may be in — whether it's high school, college, or the professional ranks — many coaches have a sense for who the star players are.
It's finding the right mix of role players that can make or break a team.
That scenario rings true for all of the Arlington high school boy's basketball teams as the 2008-09 season gets set to tip off in the coming weeks.
Over at <b>Yorktown</b>, coach Rich Avila enters his sixth season as head coach and 23rd year working at the school, knowing full well the expectations have been raised, fairly or not, for the Patriots this season.
That's what happens when a team comes out of nowhere to win two-straight National District tournaments. Last year the Patriots (14-13) entered the end of the season as a middle-of-the-pack district team only to defeat No. 1 seed Mount Vernon twice in a little over a week.
The Patriots return some familiar faces from that late-season run, including star player Simon Kilday, who averaged close to 16 points and six rebounds last year, while shooting 43 percent from three-point range.
In addition, seniors Mike Veith and Kyle Toulouse are expected to be heavy contributors, rounding out an experienced class of six seniors that will help offset the loss of graduated first team all-district selection Mike Grimm.
But Avila knows he won't make it through what looks like a tougher-than-expected National District with just his six veterans. With several juniors on varsity after starring at the JV level, Avila worries about their adjustment.
"The guys from the lower level are used to be starters and now they gotta learn how to come off the bench and play a role," said Avila. "That's where it gets a little tricky."
One factor that could cause problems for the Patriots is their lack of height. At just under 6-foot-4, Kilday is the tallest returning veteran. But he knows the only way this season will be a successful one for Yorktown will be through the help of others.
"We've got to get contributions from a lot of guys," Kilday said.
In the locker room at <b>Wakefield</b>, there is a large poster that has a simple message. It reads, "8-14, Never Again."
That's the mantra coach Tony Bentley has taken after the Warriors suffered through an 8-14 season a year ago, the worst campaign in Bentley's seven years at the helm of the program. He and the team are calling this year the back-to-business tour as they try to return to the glory days of 2005 and 2007 when the team made it all the way to the state final four and elite eight, respectively.
"It was just chemistry, we just didn't mesh well," said Bentley of last season. "One thing I do like about this team is that they all like each other."
And they've got some height. Six players on Wakefield's roster are listed at 6-foot-2 or taller. Of those, 6-foot-4 senior Johnathan Ford figures to be the Warriors key player after being dismissed from the team midseason a year ago.
But with Bentley's trademark fast break style still in effect, Wakefield will need a cast of athletic unknowns — at least to the rest of the Northern region — to mesh quickly for a team that returns just five players from a season Bentley wants to soon forget.
Last season was one of excruciating losses for <b>Washington-Lee</b> coach Bobby Dotson. His General team, which had six sophomores on its roster, was 1-9 in games decided by nine points or less. It was a big reason for a disappointing 2-21 campaign that ended in the first round of the National District tournament.
Now, though, after taking its lumps a season ago, this more-experienced group features a mix of long, talented players that could surprise the National District if it can figure out how to finish games down the stretch.
Part of the problem last year was W-L's inability to develop a second scorer behind star guard Gavin Treweek, who returns after averaging close to 20 points per game down the stretch a season ago.
One player who could figure into the conversation behind Treweek this season is guard Charlie Fuller, who has joined the basketball team after helping to rejuvenate W-L's football team this fall.
"We've got some talent, there' no doubt about that," said Dotson. "Hopefully the mistakes we made last year we won't make."
In any other league in the area <b>O'Connell</b> coach Joe Wootton would probably not worry too much about a team loaded with talent, but lacking in playing experience.
But in the WCAC, where four teams are ranked in the top-50 nationally, one's confidence is only as strong as the next game. With just three seniors on its roster, O'Connell appears to be on the outside looking in as it pertains to league dominance this season.
That under-the-radar status is something Wootton is looking at as a positive.
"I kind of like that position," said Wootton after a recent practice. "We have a chance to be good, but we got to really improve and that's the big thing."
The Knights' biggest struggle will be to replace the scoring of last year's leader, Jason Clark (Georgetown). Clark did the heavy lifting offensively last season when O'Connell lost in the WCAC finals to Gonzaga. North Carolina-bound junior Kendall Marshall appears ready to fill that void. But he'll need the help of former role players like senior guard Devin Cole and junior wings Zelmico Harmon and Maurice Williams, Jr. if the Knights are to emerge amongst the national powers in the WCAC.