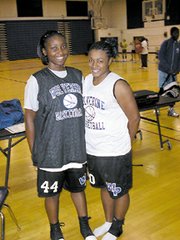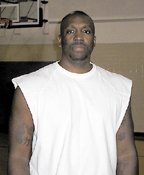 Forgive West Potomac senior Shoqoya Banks if she feels like her basketball career has been stunted a bit for reasons that have nothing to do with any sort of work she has or hasn't put in. It's a natural feeling for someone who is just now experiencing what life is like when the same coach sticks around for more than one season.
Banks and the rest of the Wolverines have an inkling the continuity brought about by the return of second-year coach Michael Weber will propel them out of the Patriot District cellar, a place they've unfortunately grown accustomed to for reasons beyond the court.
"Since my freshman year this is my fourth coach, so it has been hard," said Banks after a recent practice. "Every coach wants to take the program a different way since they had just come here."
Said Weber, who before coming to West Potomac was the girl's basketball coach at Jefferson: "They've always had some decent basketball players here, it just seemed like they weren't getting the most out of those players."
Banks is one of three seniors on the team this season, but she is the only one who has been in the program all four years. Weber also expects contributions from two newcomers, seniors Kelly Wood and Tee Wilkins. Because of the relative inexperience of everyone around Banks, Weber plans to lean on his loyal star to provide leadership for a team that is learning on the fly when it comes to playing winning basketball.
The Wolverines are coming off a 7-14 season that ended in the first round of the Patriot District playoffs, so the second-year coach and Banks are planning to make up for some lost time.
"One of our first conversations was about putting the things that happened in the past behind her and just look at this as a new beginning," said Weber. "Even though she's a senior, you can leave a legacy on a program after one year."
Leaving an imprint on the <b>Mount Vernon</b> girl's basketball team shouldn't be too difficult for first-year coach Terry Henderson. It's unlikely his presence will go undetected on the sidelines considering his 6-foot-6 frame.
But the girls playing for him should also leave a lasting impression. Returning six players and four starters from last year's 15-10 season that ended with losses to Edison in the National District tournament and W.T. Woodson in the regional tournament, the Majors are primed to be one of the best teams in the Northern Region.
Leading the charge for Mount Vernon will be junior Tracy King, a second-team all-district performer as a sophomore. And thanks to the addition of junior point guard Jalinda Venable, a transfer from Paul VI, Henderson will be able to move King around to multiple positions rather than have her pigeon-holed as the team's primary ballhandler.
"Last year she was at the point quite a bit, so it'll free her up and get her back to more of a natural wing position," said Henderson.
It has been a smooth transition for Henderson, who was the JV boy's basketball coach at Mount Vernon last year. He said even last year he kept a close eye on the girl's team and watched plenty of tape in the off-season, which has led him to believe that, with the right breaks, this team could be onto something special.
For that reason, Henderson has Mount Vernon slated to attend a holiday tournament in Portsmouth, Va., where the past three Virginia state champions have emerged from.
"I want to put the team in the situation where we are facing the best, so when district season comes, we'll be on a roll," said Henderson. "Hopefully it'll give us something to build on and strive for the rest of the season."