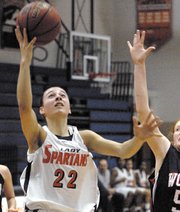 Late in the third quarter of Tuesday night's non-district game against W.T. Woodson, West Springfield girls basketball coach Bill Gibson made English teachers everywhere cringe and basketball traditionalists smile.
"Don't be guarding nobody," Gibson yelled, as the Cavaliers prepared for an inbound pass.
"We had five players and they had four, so somebody was guarding space," said Gibson later. "You have to find somebody."
Through two games this season, the situations when a West Springfield defender has struggled to find someone to guard have been few and far between. In wins over Falls Church and W.T. Woodson, the Spartans have allowed an average of 19 points per game.
Despite an 89-point performance against Falls Church on Nov. 29, West Springfield's offense has lagged behind its defense, according to Gibson, much like a baseball team waits patiently for its hitting to come around while quality fielding keeps the team afloat.
"If you can hold them down, you can afford the misses," said Gibson. His team finished 18-9 last season, reaching the Patriot District final and the Northern Region quarterfinals. "Any less defense and it's a tighter game. The defense allows us to be able to miss like that."
<b>THE OFFENSIVE</b> shortcomings shouldn't last for long. West Springfield returns one of the region's top players in senior point guard Sam Landers, who recently signed to play basketball at Division I Stony Brook University (N.Y.)
Landers has started since her sophomore year, when she played on the wing, complementing former Spartan standout Trianha Harris. But Landers has developed into the team's top scoring option. She finished with 17 points in the 51-27 win Tuesday night.
In addition to her offensive production, Landers has also been at the forefront of West Springfield's shutdown defense. As one of three seniors on the team, Landers knows what it takes for a defense to work.
"We talk a lot on defense, and that's one of our biggest points at practice," said Landers, who also converted all 11 of her free-throw attempts against the Cavaliers. "Once one person [communicates], it's contagious, and it's so much more helpful when you talk as a team. It's so much more fun."
"With a cell phone they talk great," Gibson joked. "But without the cell phones they're not as good, so we're trying to pretend they all have cell phones with them."
<b>WEST SPRINGFIELD</b> boasts one of the area's top three-point shooters in senior Pui Sham, who averaged seven points per game last winter. In a memorable Patriot District semifinal win last season over eventual region champion Lee, Sham scored a team-high 18 points, including four 3-pointers.
Her shooting touch will be one of several keys for the Spartans' offense, along with the performances of junior forwards Melanie Todd and Naomi Ngalle, who both averaged around six points per game a season ago. Senior Monica Evans will be trusted to help Sham and Landers on the perimeter.
"We still have some work to do on the offensive end," Gibson said. "But when we're shooting well, we're going to be in anything."
Ask Gibson how long he's been at West Springfield and the answer will most likely have some sort of self-deprecating ring to it. "I've lost about 8 inches off my hairline and I lose about a third of an inch every year," Gibson said of his 24-year tenure.
He's one of the most respected coaches within the Northern Region and his teams typically have a certain identity to them. This year should be no different.
"The kids are starting to learn that it's all about the win whether you win by one point or 50. It's about the team," said Gibson, whose group will take its 2-0 record into a home matchup with Good Counsel on Saturday. "This is a small, scrappy team. We're going to get after it."