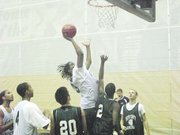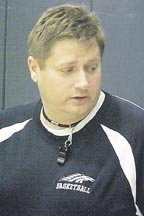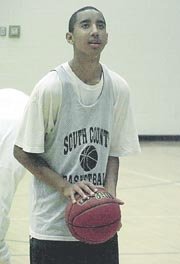 Early in November, South County boys basketball coach Wendell Johnson called his team to the baseline. Johnson, the Stallions' first-year bench boss who replaced Mike Pflugrath, wanted to explain an upcoming drill at practice, but one of his players took a late, foolish shot and the new coach had a statement to make.
"It shocked us," senior Kiunte Watkins said of Johnson's reaction.
The Stallions had seen no other side of Johnson than the affable assistant coach who, for the most part, didn't have a temper. But on that November afternoon, Johnson turned serious, notifying his players that such undisciplined actions would not be tolerated.
"We had to run a lot," Watkins said. "It showed that we really had to work and he's pushing us. He's pushing us to a positive role."
When Johnson took over from Pflugrath, who became the school's director of student activities, on Oct. 7, he inherited a team that finished 7-16 overall, 3-9 in the Patriot District last season and lost its top four players, including two standout forwards in Chris Panneton and David Stevens.
With a revamped front court and a wealth of experience at the three back court positions, it's no secret that South County will become a guard-oriented squad this fall. Leading the charge will likely be Watkins and junior Antonio Butler, both 6-foot-3 perimeter players, as well as senior guard CJay Rector.
"Last year, I would say that we were more of an inside-out team, and this year we're going to have some pretty good guards," Johnson said. "That doesn't mean that we won't have any post [players] that contribute, but we feel a little bit more confident with our three guys out on the wing having the ball in their hands."
Butler averaged a team-best 8.2 points per game last season and grabbed 3.2 rebounds per contest. Watkins, who's more of a natural point guard, averaged 2.5 points and 2.1 assists per game. Rector averaged 3.2 points per game last season and shot 31 percent from beyond the three-point arc.
<b>WHILE WATKINS</b> admitted that the burden of having to score has been quite a change, he said he's ready for the challenge. The expectations have been building since the summer and he's finally slid into a bit of a comfort zone with his new role.
"All I can do is give it my all," Watkins said. "I'm getting better with this. I just have to get more vocal, and that's something that my team helps me work on and hopefully I can work with them."
"Last year, I wasn't really counted upon as a scorer," Butler said. "This year, it's my role to be a scorer, so it'll be different, but I think I can handle it."
In addition to the perimeter shooting and quick ball movement that will become staples of South County's basketball team this season, the Stallions hope to emphasize defense. The abundance of guards should translate into an abundance of speed. Look for South County to press early and often.
Butler observed that most teams will be taller than his own but noted that few would match South County's speed. Since the beginning of November and during scrimmages against Woodbridge and Edison, South County has worked to perfect its full-court press and high-pressure defenses.
"We're going to have a fairly quick team," said Johnson, whose team suffered an 85-56 loss at Mount Vernon Tuesday night and will host Woodson Friday. "Not as quick as Mount Vernon, but I think across the board we're going to be a little bit quicker than we were last year. We can put five guys on the floor who can cause some chaos and that's what we're hoping for."
With the departure of front court leaders Panneton and Stevens, a handful of players have been battling to fill those two spots. Right now, Darius Colburn, a new addition to the team, appears to be a front-runner for one of those spots and Johnson will also look to senior captain Jamel Gonzalez to fill the other.
Colburn carries a sizable 6-foot-3 frame and brings a physicality to complement Gonzalez's athleticism and shooting. Kenny Allen and Jeff McDaniels should also provide competition inside.
"I think we're going in the right direction," Johnson said. "It just depends on what day it is and where we are. At times, they've showed flashes that they can come together and jell as a team, and other times everybody plays their own game and we kind of break down and start arguing among ourselves.
"But it's OK to be that way in December. In February, no. We're working toward building team chemistry and coming together. It's a slow process."