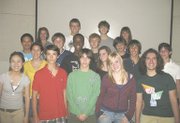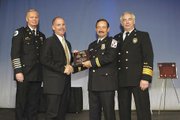 Send announcements to The Loudoun Connection, 7913 Westpark Drive, McLean, VA 22102 or e-mail loudoun@connectionnewspapers.com. Deadline is Friday. Photos/artwork encouraged. For more information, call 703-917-6454.
The following area Virginia Tech students were among those honored at the university's spring commencement ceremony held May 9: Shari Baloch, Samuel Beneck, Matthew Brubaker, Elizabeth Dye, Paul Geiger, Warren Glismann. Lisa Gunderman, Nasser Hamidi, Safia Jamil, Margaret Pruden, Vladimir Smirnov, Zachary Williams, Zachary Williams, Christian Zoeller, Andrew Augustin, Monica Bass, Albert Bjork, Caroline Black, Douglas Brenner, Michael Diaz, Margaret Feldman, Amanda Halsey, Ashley Hartle, Kristin Hendershot, Kimberly Hollmann, Lisa Kaiser, Taylor Lugar, Erik Reeves, Morgan Rezac, Katherine Runco, Nicole Shaffer, Christopher Jones and Emily Williams.
Army Reserve Capt. RC Chao, Sterling High School class of 1993, has been mobilized and activated for an overseas deployment in support of Operation Iraqi Freedom. Chao, who graduated from Virginia Polytechnic Institute in 1997, will be aiding in the security, stabilization and rebuilding of Iraq and its infrastructure.
The Loudoun affiliate of Habitat International recently
elected its new board members, increasing the board from 18 to 20 members, and electing a new executive board. The newly elected president, Alta Jones, previously served as board's vice president and also currently heads
the finance committee. Jones has held executive positions in the financial services industry and is currently a business consultant partner with Hilltop Advisors. She also serves on the Virginia state Habitat board.
Joining Jones on the executive committee are Tom Grannas, vice president and a partner with Charron Consulting; George Rose, treasurer and founder of Land Design Financials; Dave Boyd, secretary, member of the Loudoun's Housing Advisory Board and director of BNI Northern Virginia; Pamela McGraw, family selection chair, nonprofit representative for Loudoun's Affordable Dwelling Unit Advisory Board and employed by IDI Group Companies and Bud Green, head of construction and past LHFH president.
Joseph Barbaccia of Potomac Falls is one of 15 artists selected as finalists for the Trawick Prize: Bethesda Contemporary Art Awards, a juried art competition produced by the Bethesda Arts & Entertainment District. The work of the 15 finalists will be on display, from Sept. 3-27, in downtown Bethesda at Heineman Myers Contemporary Art, 4728 Hampden Lane.
The prize winners will be announced and honored Wednesday, Sept. 3, at a special press event held at Heineman Myers Contemporary Art. The Best in Show winner will be awarded $10,000; second place will be honored with $2,000 and third place will be awarded $1,000. A "Young Artist" whose birth date is after April 11, 1978, will also be awarded $1,000.
Recipients of the 2008 Westmoreland Davis Memorial Foundation Scholarships to the University of Virginia and their parents attended a reception in their honor at Morven Park Aug. 19. Each student had been selected to receive a $2,000 scholarship, provided by the Westmoreland Davis Memorial Foundation Inc. and administered by the University of Virginia Alumni Association. In keeping with its educational mission, the foundation has been awarding scholarships to incoming UVA students since the 1960s. Westmoreland Davis was governor of Virginia from 1918-1922 and a graduate of UVA.
On Aug. 14, FireRescue Magazine recognized Loudoun County Fire Rescue Capt. Dan Corder as the 2008 Company Officer of the Year. The award was presented to Corder during the keynote address at the 2008 Fire-Rescue International Conference and Expo in Denver, Colo.
Corder was nominated for this award by several individuals, including Loudoun County Fire Rescue members, volunteers, and citizens in the community. The award is presented every year to a company officer who exhibits leadership, a commitment to safety and training, strong community involvement, incident command effectiveness and good interpersonal communication.
The Company Officer of the Year ceremony included an all expense paid trip to Denver as well as a cash award. Corder has chosen to donate his cash award to the Alex Keepers Memorial Hardship Fund, established through Loudoun County Firefighters Union local 3756. The fund is named for Lt. Alex Keepers, who died in a weather-related traffic accident this past winter, on his way to work. The fund assists injured or burned firefighters and their families.