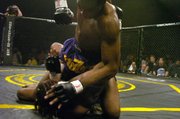 Reshad Woods and Aaron Riley of One Sprit Martial Arts in Herndon took home victories at the UWC Invasion MMA show at the Patriot Center on Saturday night. Woods started the show off with a bang by knocking out opponent Ron Stallings in the first fight of the night. Fighting off an arm bar, Woods slammed Stallings to the mat and added a fierce jab to knock out Stallings.
Riley's victory over Thiago Minu lasted much longer, as the 24-10-1 Riley controlled his opponent for the entire match and won by unanimous decision after three rounds.
One Spirit's Jonny Curtis was the training center's only loss of the night as the 235-pounder was knocked out by Josh Feldman in the first round.