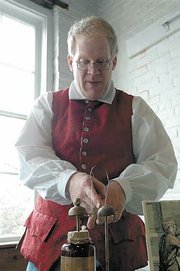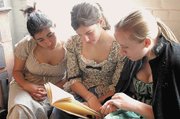 Every Sunday from now until the Christmas season, Old Town Alexandria will feature costumed interpreters who will interact with the public and stage performances in Market Square and on the waterfront. The festival atmosphere will feature street performers and historical figures who will flood lower King Street and wander the outlying streets. Watch as Signora Bella balance herself on the "ball of death," and ask George Mason why he refused to sign the Constitution. Learn about the curative properties of rhubarb at the apothecary, and find out what George Washington liked to order at the tavern.
"You are going to see them all over the place," assures Liz Williams, assistant director at Gadsby's Tavern. "It's an opportunity to bring some of the guests over from National Harbor, and it's a whole new way to see Old Town."
The effort to increase visibility of costumed interpreters was developed by Office of Historic Alexandria Director Lance Mallamo, who presented a plan to City Council members last November. Mallamo is currently developing a series of "story boxes" containing museum artifacts that will be displayed on "discovery carts" that will act as advertisements for the city's historic museums. Those interested in audio tours will be able to dial a telephone number and hear information on the city's architecture, special events and visitor services.
"We want to use the streets as a living organism," Mallamo told City Council members.
Many of the interpreters who will be roaming the streets of Old Town will be volunteers from McLean High School, who are members of a historic reenactment club known as Project Enlightenment. Since 1992, the club has performed at Mount Vernon Estate. Now the students will make weekly appearances in Alexandria — honing their characters every thought and whim. One student will portray Martha Jefferson, and another will interpret Julia Rush.
"The kids pick their characters based on what their interests are," said Dean Howarth, a physics teacher who will portray Dr. John Page. "We have several kids from other countries who will be portraying visiting dignitaries and traveling artists."