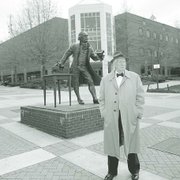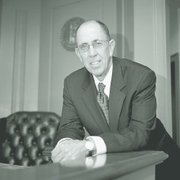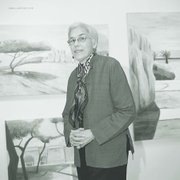 Readers of the<I> Alexandria Gazette Packet </I>nominated a wide field of potential candidates last year for the newspaper's inaugural Living Legends series, an ongoing project to document the changing human landscape of this city. A committee of distinguished panelists then deliberated for months last year over the entries, carefully considering their relative contributions and ultimately selecting a group of 12 finalists who were featured in profiles written by former <i>Gazette Packet</i> editor Christa Watters. For the next five months, the Lyceum will be displaying 48 photographic portraits of the nominees and the Legends.
"I would say that I'm really excited, but that's such a wimpy word for how I really feel about it," said Nina Tisara, who conceived of the project and now serves as project coordinator and photographer. "I wasn't prepared for how much it would affect me. To see the photographs and read the stories makes me feel blessed to be in a city that draws these kinds of people to it."
From April 25 to Sept. 8, the Lyceum will feature the Tisara photographs in the Coldsmith Gallery with each portrait accompanied by a brief biographical sketch explaining the nomination. Living Legends is a joint program of the Rotary Club of Alexandria and the <i>Alexandria Gazette Packet</i> that began in the fall of 2006 when the newspaper asked its readers to nominate local citizens whose vision and energy had improved life in the community. Criteria for selection were based on the nominee's creation of a tangible improvement to the city, an improvement that would not have happened without that person's vision and determination.
"We all know about George Washington," said Steve Wharton, president-elect of the Rotary Club. "But when you get into the recent past, some of that history gets lost. That's what was so great about this project because these are people who have really contributed to the city in a lot of different ways."
The 2007 Living Legends were: Ferdinand Day, Vola Lawson, Patsy Ticer, Marian Van Landingham, Gladys Seisler, Stephen Rideout, David Cleary, Joe Youcha, Debra Roepke, Carolyn Griffin, David Martin and William Hurd. The nominees were Mollie Abraham, Franklin Backus, Sarah Becker, Donna Bergheim, Mel Bergheim, Tom Bowling, Barbara Brecher, Susan Butler, Jean Caldwell, George Cook, Lou Cook, David Cordell and Jonathan Friedman (nominated as team), Kerry Donley, Bill Euille, Margaret French, Marion Galland, Charlotte Hall, Dana Lawhorne, Marlin Lord, Tim Lutz, Ann Lynch, Eula Miller, Melvin Miller, Pat Miller, Scott Mitchell, Patty Moran, Ann Boston Parish, Ellen Pickering, John Porter, Kitty Porterfield, Bill Reagan, Ronald Rucker, Jack Ticer, Henry "Huck" Thomas, Larry Trice, Pat Troy, Joseph Viar and Glenn White.