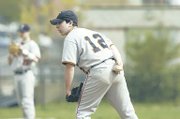 The spring of 2008 has been a breakout season for the Briar Woods High baseball team, which won a combined one game over its first two years of existence in 2006 and 2007.
But this spring, the Falcons were carrying an impressive 5-5 record going into this week's action. On top of that, Briar Woods was having success in the tough Dulles District with a 3-3 record. Perhaps the team's biggest victory in the three-year old school's baseball history came last Friday night when the Falcons defeated defending district champion Potomac Falls, 4-3.
The win over the Panthers was the third in a row for Briar Woods.
The modest win streak, huge for a program that went 0-21 last year, was snapped last Saturday afternoon when the Falcons lost at George Mason High, 9-4.
Following the prolific win over Potomac Falls the night before, the Falcons struggled in the loss to the Mustangs.
"I'm sure there probably was a [letdown]," said energetic Briar Woods coach Josh Mosser, whose squad is made up mostly of freshmen and sophomore players. "It's really different with a young team. We came out of an emotional win and wanted to keep that same focus. We played a wonderful game last night [against Potomac Falls], and George Mason played a wonderful game today."
<b>IT MARKED</b> the second time this season that Briar Woods has lost to its non-district rival. On March 31, the Mustangs defeated the host Falcons, 7-5, by scoring three times in the top of the seventh to overcome a 5-4 deficit.
Briar Woods, going into Saturday's game at Mason, had won three straight district games – triumphs over Loudoun County, 19-6, Park View, 4-2, and Potomac Falls. But the Mustangs brought the Falcons back down to earth.
"I just think mentally we weren't ready to come out and play," said Briar Woods junior pitcher/first baseman Ian Hickman, who played at Loudoun County last year before transferring to Briar Woods for this school year. "George Mason is a good team."
Hickman said Briar Woods is trying to shake its underdog image. And the recent string of district wins has helped the Falcons move in the direction of being considered more of a district contender.
"As a team, we get ready for every game [thinking] we're not an underdog," said Hickman, who was the winning pitcher in relief against Potomac Falls. "We had a lot of confidence after the Park View win."
<b>IN SATURDAY'S GAME</b>, Briar Woods scored a run in the top of the first inning to jump on top. Hickman, the Falcons' clean-up hitter, sent a deep fly ball into center field with two outs. The Mustangs' outfielder dropped the well-hit ball, and Briar Woods senior Umang Makhijani, who had reached base on an infield single earlier in the inning, scored easily from second base.
But Mason came right back with four runs in its half of the first inning, the big hit being a two-run double from Mike Staub.
The Falcons, trailing 4-1, scored two runs in the second to get within 4-3. Briar Woods sophomore shortstop and leadoff hitter Gavin Scherer plated both of the runs with a two-run single into left field.
But Mason, once again, answered by scoring two runs of its own in the bottom of the second to extend its lead to 6-3.
Both teams scored single runs in the third inning. Briar Woods scored its third inning run when sophomore catcher Logan Harris roped an opposite field, line drive single down the right field line to plate a run and get the guests within 6-4.
Mason scored an unearned run to go ahead, 7-4, in its half of the third.
Briar Woods was not able to score again over the fourth through seventh innings. George Mason relief pitcher Alex Drewitt threw four shutout innings of relief work to earn the win. The steady right hander allowed four hits, all singles, while striking out two and walking one.
Briar Woods, meanwhile, received outstanding relief pitching from freshman Mike Reilly, who entered the game with two outs in the George Mason second inning and quickly got out of a threat by retiring the next two hitters.
From that point on, the Briar Woods' right hander pitched four more solid innings, allowing three unearned runs.
For the game, Reilly, over 4-2/3 innings of work, allowed six hits, all singles, while striking out two and walking none. He was hurt by four team errors that contributed to three Mason runs.
While the Briar Woods' defense was not a strong point in the game, the Falcons did make some nifty defensive plays behind Reilly. One came when the Falcons' infield pulled off a 6-4-3 double play to end the Mustangs' third inning. Later, Falcons' center fielder Victor Rizzardi made a nice, running-in catch to end the Mason fifth inning.
Offensively, Briar Woods had seven hits in the game. The base hits came from Harris (2 hits), Scherer, Makhijani, Hickman, senior shortstop Alex Munro and Rizzardi.
<b>MOSSER</b>, the Briar Woods coach, said his team's success to this point of the season has not been a surprise to him.
"It's been what I expected," said Mosser. "I really believe we have the talent to compete in our district. It's a matter of our guys getting some success and believing in themselves."
In the Falcons' win over Potomac Falls last Friday night, Hickman had a key, two-run single in the third inning. He also pitched 2-2/3 innings of strong relief for the mound win. Also pitching well for Briar Woods was Austin Frattali, who went 4-1/3 innings in a solid starting effort. Offensively, Scherer had three hits and scored two runs in the win.
This week, Briar Woods was scheduled to play at Broad Run on Tuesday and at home against non-district opponent Handley on Wednesday. This Friday night, the Falcons will host Dominion at 6.