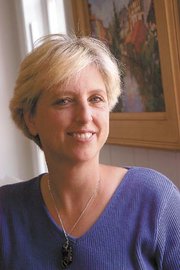 New works by Trisha Adams will be on display in Gallery 222, May 1-31. The solo exhibit, "Fresh Paint," will include still life and landscape paintings. The opening reception is Friday, May 2, from 6-9 p.m., during First Friday Gallery Walk. The gallery is located at 222 South King St., Leesburg. Visit www.gallery222.com or 703-777-5498.
Who are your major influences?
My father has been the major influence in my life. I am fortunate to have someone close to me of such honesty, integrity and intellect. His life is an example, which I strive to follow.
Who are your major art influences?
Maggie Siner, who lives and paints in Hamilton, Va., and France, is a major art influence. I love the way her work combines abstraction and the illusion of reality. Her color sense is acutely honed and her paintings breathe with energy and life. Maggie is a gifted instructor who continues to show me ways to improve my art.
When did you first get inspired to create art? Did you always know that you wanted to be an artist?
I did not always know I was going to be an artist. When I was younger, I thought art was "goofing off" and instead focused on math and science.
Over time, I began to appreciate intangibles, which are difficult to measure, but are nevertheless important, such as beauty and happiness. This shift in my thinking paved the way for me to become an artist.
What is the motif of the show? What is special about it?
The show is called "Fresh Paint," a title which not only means the work is recent, but implies a bit of the novel and engaging. Though the paintings are representational, mostly still lifes and landscapes, they are interpretations of what I see. The subject matter is the inspiration and jumping off point for the painting.
Where do you do most of your work? Do you prefer a bedroom, studio, outside, lot of light, little light, etc.?
When the weather is nice, like it is now, I often paint outdoors. But mostly I paint in my studio located upstairs at the Loudoun Academy of the Arts in Leesburg. I love the space because the window and glass doors let in lots of light. I just refinished the floors so it is a beautiful place to work. I recently expanded to be able to work larger — which is a lot of fun. You'll see quite a few large paintings at the show because of having the larger studio space.
What do you listen to when you work? Is it reflected in the work you create?
I listen to upbeat music when I paint that makes me want to sing and dance. It ranges from Tom Petty to Nora Jones to reggae. I think the music makes me more energetic and that is evident in the painting.
Favorite medium to use and why?
Oil paint is my favorite medium because I can change my mind as I go by painting over passages. I respond to the painting as it's unfolding rather than knowing the exact outcome before I start.
What do you hope viewers get out of the art show?
I hope that viewers are engaged by the paintings. A successful painting is one in which the viewer says "I can't stop looking at this."
Favorite art work (either own or someone else's):
My favorite artwork is most anything by Maggie Siner (instructor), Ted Goerschner (author) and Arleen Turzo (colleague) in Atlanta, Ga. I can look at their paintings endlessly and never tire of them.
If this is your first solo event, how do you feel hosting your first solo art exhibit? If not how is this one different from others?
This is my second solo show at Gallery 222 in Leesburg. The preceding show was in September of 2006. I am looking forward to (hopefully) showing how far I've come in the intervening year and an half. As before, there will be a mix of paintings executed with a palette knife and also with a brush. Included this time are more large paintings — something which people have been asking for.
Where else can people see your art?
Work can also be seen at Oakton Art and Framing in Oakton, Va., and Chasen Galleries in Richmond, Va., and Charlotte, NC.
Any future shows coming?
Trisha Adams will be the featured artist at Art at the Mill in Aldie this September.