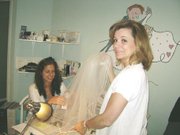 A bride's wedding day is supposed to be one of the happiest of her life, but the time leading up to that can be one of the most stressful. Jean Hartman knows this and that is why on Tuesday, April 29, she is offering a bridal planning workshop titled "How to Plan a Fabulous Wedding on a Realistic Budget" to inform soon-to-be brides the best ways to get ready for their wedding and save money while doing it. Hartman is a professional bridal consultant who helps brides in Loudoun find the perfect and most affordable way to plan their wedding.
"It's a three-hour class and I bring in other vendors: photographer or florist or cake maker. Then we all talk about how to save money," Hartman said.
During the seminar, which is usually attended by brides and mothers but also sees its share of grooms, the local vendors from around the area come in and discuss everything from when to book things to what is the best way to order the things you need. Hartman chooses the vendors who come based on their costs and quality of work, making sure each offers a good price for good work. She said the class is not a sales pitch, but an informative program that is meant to teach people how to better plan their wedding.
"I give a talk on etiquette of invitations and I go through a whole time line on how to plan a wedding and how to get started," she said.
ALSO AT THE workshop is the Loudoun County Visitors Association. Hartman says that Loudoun is a fantastic place to hold a wedding with many beautiful and one-of-a-kind locations and the LCVA is helpful with finding the perfect spot. The LCVA offers resources to brides who are looking for venues and vendors for their weddings.
"The LCVA is a free resource to brides that people don't really know about and it is one of the best free resources out there," Hartman said.
As far as tips go, Hartman says that the most important thing in saving money when planning a wedding is to do research. She says that many people miss out on good deals because they don't look around enough or do enough research on the options they have. Planning as far ahead as possibly is also good as prices go up the closer to the date the booking is made and, she says, that many places are booked at least a year ahead so finding the perfect spot gets harder, too. More specifically those who are planning weddings should make sure that everything is up front so that there are no hidden charges later.
"Get all the pricing up front and get a packaged deal," Hartman said. "Vendors will nickel and dime you. If it's all inclusive and everything is up front initially you can save a lot of money."
Finally, Hartman recommends finding vendors that sell directly. Hartman sells wedding dresses and all her items at discount because she buys directly and cuts out the middleman. She says if you find a vendor who is has a direct connection you can save a good amount of money.