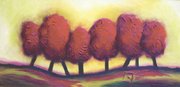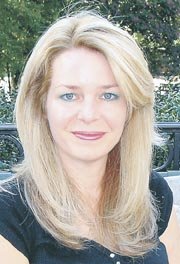 Going into an art museum can be an enlightening experience, yet many contemporary artists use dark and depressing themes and colors in their work, but not McLean-based artist Kerin McBride. While she uses unnatural colors and sometimes makes abstract work, her goal is to make the viewer happy.
"My basic philosophy is life is hard enough as it is," said McBride who says people want to look at and buy paintings that make them feel good. McBride, who is an oil painter and uses mixed media acrylic and fabrics in some of her art, paints landscapes and sometimes flowers or abstract objects. While creating her work she uses unnatural and vibrant colors that appeal to people. Instead of painting a landscape in their "real" colors she may paint a tree in a bright pink that jumps out at the viewer. "I tend to use vivid bright colors," said McBride of her art. "The thing I hear the most is 'that makes me feel good' or 'it makes me happy to look at your pictures.'"
McBride doesn't look at photographs as a source for her art. "It's all out of my imagination," she said, but would like to go on location to paint in the future. "I'm always collecting ideas … I pretty much just start painting, it sort of evolves while I'm working on it."
McBride, who is pursuing a graduate degree in fine arts at Virginia Commonwealth University, has had her pieces well received in numerous exhibits around the country including Chicago, Louisville, and Philadelphia. She recently displayed her work in Florida and is part of an upcoming exhibit called Subjective Realities at the Agora Gallery in New York City. In the Subjective Realities exhibit, she used mixed media to create abstract work and floral pictures. "They're a little bit different," McBride said about her work at the upcoming show, which will be on exhibit April 18 through May 8 at the Agora Gallery in Chelsea, 530 W 25th St., New York, N.Y. Hours are Tuesday through Saturday, 11 a.m.-6 p.m.
McBride has also shown her work locally and was featured in the McLean Project for the Arts Artfest last October. In June, McBride plans to begin creating her art at the Workhouse in Lorton. Workhouse, part of the Lorton Arts Foundation, is at the site of the now defunct Lorton Correctional Complex. Workhouse allows McBride to work from somewhere other than her own studio and will allow her to create more art she hopes people will enjoy.
"My goal is to have [my art] be something uplifting," said McBride. "Rather than have something that they're going to talk about for 100 years."
For more information, visit www.kerinfinearts.com and www.agora-gallery.com.