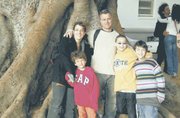 Jason Campbell says his chances of hitting a hole-in-one, Monday, April 21, at the Jason Campbell Classic at the Lowes Island Club in Potomac Falls are about 3 percent. Evidently his skills on the football field as the Washington Redskins' quarterback don't translate as well to the golfing green. But the point of the classic isn't winning or getting holes-in-one, the point is to raise money for the Leukemia and Lymphoma Society and have some fun out on the course with players from the Redskins.
"It's just a great opportunity to get out and get involved in the community and help some people out," said Campbell in his home in Lansdowne. "I played the two years but this year will be better since it's mine so I'm expecting to shoot higher."
Campbell is referring to the fact that this is the first year that the classic has been under his name. Former Redskin Mark Brunell, who approached Campbell to take over the tournament, started the fund-raiser two years ago.
"The tournament was started two years ago by Mark Brunell who wanted to get involved in the community and give back to it and he wanted to help children so we started the Mark Brunell Classic. We got know Jason through Mark and he's been really pleased to work with us to battle blood cancer," said Mary Angelo of the National Capital Area Chapter of The Leukemia & Lymphoma Society who organized the event.
PARTICIPANTS IN the tournament buy-in in teams of four and are coupled with a Redskins player at random to play through the course. Campbell says that Shaun Suisham and Derrick Frost, both of whom are playing, are the best golfers on the team and the ones participants might want to hope to play with. The day also consists of a silent auction, a live auction and a large dinner for all the participants.
"We've got a great silent and live auction planned and we have some really unique items," said Angelo. "One is an opportunity to play golf with Fred Funk, another is the opportunity play golf with Doug Williams and Jason. We have an opportunity for two children to get an exclusive behind-the-scenes tour of Redskins Park, plus lots of autographed sports memorabilia and a one-year lease on a Mini Cooper."
The event also gives the opportunity for sponsors to donate money and over the three years of its existence has raised $350,000 to fund cancer research and patient services.
IT ISN'T ALL about raising money for the tournament. The event also helps raise awareness for the Leukemia and Lymphoma Society. To this end the classic brings in a child afflicted with a type of blood cancer each year to meet the players, get autographs and talk at the dinner after the tournament. This year Jamey Sultan, who was diagnosed with leukemia last May, which is now in recession, was picked to give a speech to the attendees and meet with the players.
"I get to meet Jason Campbell and the Redskins and I've never seen a golf tournament before," said Jamey, "I'm really excited. I've already have my speech written down. It took some time to think of something that would work."
Jamey and his family were contacted by the society after Jamey's father, David Sultan, did a ride to raise money for the society. The family had been involved with the Leukemia and Lymphoma Society since finding out Jamey had leukemia.
"They've given us a lot of information and support," said Karen Sultan, Jamey's mother. "As well as a lot of activities and events to help get away from it all and have some fun."
THE LEUKEMIA & Lymphoma Society is the world's largest private organization concerned solely with funding research toward cures for blood cancers such as leukemia, lymphoma, Hodgkin's disease and myeloma, and improving the quality of life of patients and their families. The Washington chapter serves more than 2,500 patients and families each year with information and resources for parents dealing with sick children.
"The importance of raising money in events like these is huge," said Karen Sultan, sitting in the family's Rockville home with her husband and Jamey. "They have different kinds of support groups, you can join discussions. If they weren't around [Jamey] wouldn't be in remission. We owe them Jamey's life so helping out with something like this is a pleasure."
Campbell said he first realized the importance of helping families out the first year he participated in the tournament. "The first year I met the child for that year and it just broke my heart to see him and it really made me want to help and push the tournament forward," he said.
ANGELO SAYS THAT they chose the course because of it being a really beautiful course and the fact that it is so close to where many of the Redskins live.
"The main thing is getting out and having fun," said Campbell. "I want to enjoy the time on a hopefully nice day and get a chance to network into the community."
Jamey says that he hopes people are able to have fun but what he really wants is to be able to help out other children who are dealing with the same things he is going through. In this line he is not only participating in the tournament but also helping raise money for the American Cancer Society.
"Now I know what it's like to go through this. It's kind of hard, so I want to make it better for people who are going through it in the future," Jamey said.