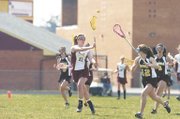 Last Saturday, the Broad Run High girls' lacrosse team defeated Westfield High, 10-9, in a non-district afternoon contest played in Ashburn.
The Spartans led 7-6 at halftime. But the Bulldogs answered first in the second half, scoring two quick goals to go ahead 8-7. Broad Run, however, ultimately prevailed in the nail-biter.
Among the Spartan scorers were: Kate Sistare, Meredith Rogers, Mary Beth Mitesser and Aubrey Neuhart. Defensive leaders included Krystan Johnson, Brogan Dublin, Emily Patterson and Jiwon Choi. The Spartans received a strong performance by goalie Allison Bogle, who recorded at least 15 saves for the day.
Earlier this season, the Spartans lost their first game of the season against a strong Western Albemarle team, 14-3, on March 29. Scoring goals for the Spartans were Kate Sistare and Aubrey Neuhart. The game was played at Western Albemarle.
In an earlier season contest, Broad Run handily defeated the Monticello Mustangs, 19-5, in a home game. Katie Mesmer scored five goals and dished out three assists.
Mesmer, a senior, began the spring demonstrating the same stellar play she has displayed over the past two seasons when she earned First Team All-Dulles District and All Region honors.
"Katie is a key player in making the offense work," said Broad Run coach Jen Melhuish. "She sees the entire field and her pass placement maximizes scoring opportunities."
Mesmer is a Spartans' team tri-captain, along with Brogan Dublin and Krysten Johnson.
<b>The Broad Run High girls' soccer</b> defeated Freedom, 8-0, in a recent Dulles District contest played at Broad Run. In the first half, Valerie Powell and Kelly Evans scored one goal each for the Spartans. In the second half, Broad Run added another six goals, with both Powell and Evans scoring again, along with two goals from freshman Whitney Church. Carina Chavez and Holly King also both scored. junior goalkeeper Caitlin Hunter posted her second shutout of the season, and her 25th career regular season shutout. The Spartans improved to 3-0 with the win.
<b>In a 7-5 non-district loss</b> to George Mason High School on March 31, the Briar Woods' baseball team could not hold onto a 5-4 lead in the bottom of the sixth inning. George Mason tallied three runs in the top of the seventh to take the lead for good.
Briar Woods coach Josh Mosser said his team received a strong outing from starting pitcher Ian Hickman, who allowed only one unearned run. The coach said Briar Woods was unable to make adjustments at the plate throughout the game and was also hurt by mental errors on the base paths.
In its prior game, Briar Woods did get into the win column in an 11-4 triumph over non-district opponent Warren County two Saturdays ago. Austin Frattali picked up his first career win for Briar Woods, throwing five strong innings and surrendering three runs while striking out seven as the Falcons defeated the host Wildcats for the second time this season.
Briar Woods pounded out 13 hits on the afternoon, and played a good defensive game.
Chris Wade was excellent at third base for Briar Woods, ending an inning and saving two runs on a backhanded dive and throw to first. The third bagger finished the game off by snaring a hard-hit liner.
At the plate for the Falcons, Kyle Haufler, Gavin Scherer, Logan Harris, Umang Makhijani and Zach Deaton each collected two hits apiece. Freshman Garrett Thomas pitched the final two innings in relief, surrendering one run on one hit.
Briar Woods, in a game played on March 25, struggled in a 10-0 Dulles District loss to powerful Broad Run. Hickman pitched for the Falcons while left-hander Cole Shain threw for the Spartans. Both pitchers did well. Hickman allowed five runs, but only two were earned. The Falcons were hurt by seven errors in the field.
Shain allowed just two hits, one in the first inning and one in the seventh, while striking out seven Falcon hitters.
Broad Run led just 2-0 until the Spartans scored three runs in the sixth. Four Briar Woods' errors hurt the Falcons' cause during the inning.
After the sixth inning, Hickman's night was done as he climbed above 110 pitches thrown. Two freshmen pitchers finished off the game for the Falcons, giving up five runs (2 earned).
<b>Despite out-hitting Dominion</b>, 11-10, the Briar Woods' girls softball team could not overcome a lack of timely hitting and fell to the host Titans, 10-5, on April 1.
The Falcons took a 1-0 lead in the top of the first, but Dominion plated three runs in the bottom half of the inning and pulled away with four more runs in the third. The Falcons threatened several times over the final four innings, but could not capitalize in several crucial situations. Senior Megan Stejbach, sophomore Holly Dominguez, and freshmen Jillian Olson, Kasey Ball and Kristina Karagiorgis collected two hits each, while sophomore Caitlin Blalock knocked in two runs.
In its prior game, Briar Woods shut out George Mason, 15-0, for its school record third win of the season. Falcon sophomore pitchers Kate Fowler and Caitlin Blalock combined on a one-hitter and sophomore Holly Dominguez went 4-for-5 with three runs scored to lead Briar Woods to the non-district win. The Falcons, in the shortened-six inning affair, improved to 3-1 with the victory.
<b>Briar Woods' faithful</b> can show their school spirit and at the same time support the Falcons' softball program by purchasing 32-ounce Falcons unbreakable plastic water bottles (PDF) and Briar Woods Athletics t-shirts. Water bottles come in either blue or orange and have the Falcons' logo as well as `Falcons' on the side in white. Cost is $10. T-shirts are navy blue
and cost $10. Contact Coach Jennifer Potts for more details.
Sophomore attackman Derek Maltz scored five goals and five assists as Stone Bridge held off Marshall, 11-7, in a recent Liberty District boys' lacrosse game. Junior Chris Wilson also had a terrific game, adding three goals and two assists for the Bulldogs. Contributing one goal each in the win were junior Jack Burke and sophomore linemate Craig Kovaluk.
Briar Woods boys' soccer player Guilherme Villar scored a goal in the second half and helped set up another Falcons' score in a 2-1 Dulles District win over visiting Dominion.