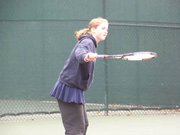 Led by a freshman at the top slot, Yorktown's girls tennis team has jumped out to a 4-1 start, including clean sweeps over four of its five district opponents.
Freshman Emily Flickinger has been a pivotal addition at the No. 1 slot vacated by Kayla Connor, where Flickinger is currently undefeated in five singles matches. Flickinger is ranked as a four-star (out of five) recruit for the Class of 2010 by tennisrecruiting.net, a premier tennis recruiting Web site.
Flickinger, who teams with either Lydia Getachew or Michelle McKelvey or on the top doubles squad is undefeated through five matches. Getachew and McKelvey are the ranked play at the No. 2 and No. 3 spots respectively.
Flickinger steps in for O'Connor, who has recently helped Christopher Newport's tennis team to an 18-1 record on Sunday. At the No. 5 slot, O'Connor dropped Megan Brady 6-0, 6-0. The Captains will be the No. 2 seed at this week's USA South Tournament set to begin Thursday in Burlington, N.C.
Meanwhile, Yorktown opened the season with 9-0 victories over Falls Church and Stuart, both district opponents before a 6-3 loss to a resurgent Washington-Lee. The Patriots rebounded, with 9-0 wins over Wakefield and Mount Vernon.