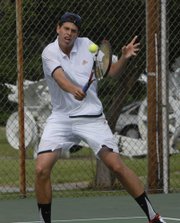 The Robinson Rams tennis teams notched two victories over the past week, sweeping Centreville, 9-0 in girls and 9-0 in boys. On April 8, the Rams beat Fairfax in boys and girls, each by scores of 7-2.
On Wednesday, April 2, the Lady Rams shut out Centreville, 9-0.
At No. 1 singles, Megan Kittel fought back to a 10-8 victory. At No. 2 singles, Dawn Xiang limited her unforced errors to win, 10-5. At No. 3 singles, Nicole Furst came into her own, smashing her opponent, 10-3. Courtney Clinton, at No. 4 singles, played well offensively and defensively when appropriate to earn a 10-8 victory. At No. 5 singles, Kaitlin Kallini played a gritty game to whip her opponent 10-4. Finally, at No. 6 singles, Nicole Hackett showed great determination, winning in a 7-2 tie breaker.
The Rams then joined forces to play excellent doubles with Kittel and Kallini, Xiang and Furst, and Bui joining Clinton to earn 10-6, 10-5, and 10-5 victories, respectively.
<b>THE BOYS TEAM</b> traveled to Centreville and also recorded a 9-0 win.
Drew Courtney, Doug Gallagher, and Billy Nason all recorded shutout victories in singles. Kevin Castellow won easily, 10-1. Nico Papageorge moved up to the No. 5 spot and won 10-2 over the Wildcats' Drake Diamond. Alex Callo rounded out the singles line-up with a 10-0 win. In doubles, Castellow and Gallagher won quickly, 8-0. Sam Coster and David Eackloff teamed to win at No. 2 doubles.
In the most exciting match of the day, freshmen Michael Callo and David Smiley made their Ram debut by winning a tiebreaker.
They fell behind, 7-4, but with the team cheering them on, staged a big comeback to force the tiebreaker.
<b>ON TUESDAY, APRIL</b> 8, the Rams girls tennis team defeated Fairfax, 7-2.
At No. 1 singles, Meg Kittel lost a tough match to Lauren Palmucci. At No. 2 singles, Dawn Xiang got tough toward the end to defeat Kate Montwill, 10-7. At No. 3 singles, Nicole Furst soundly beat Vickey Teets, 10-1. Courtney Clinton played smart tennis at No. 4 singles to win 10-7 over Sita Sitalakshmi. Kaitlin Kallini started out 0-2 and then roared back to win 10-2 over Lauren Schaffer. Nicole Hackett played her best match of the season to beat Duygu Erguder, 10-1.
In doubles, Kittel and Kallini gave Palmucci and Montwill a good match, losing, 10-7. At No. 2 doubles, Xiang and Nicole Furst keep improving, soundly beating Sitalakshimi and Schaeffer, 10-1. Courtney Williams and Angela Stallman made a successful debut at No. 3 doubles, defeating Tiffany Lee and Visheshta Chopra, 10-4.
<b>AT FAIRFAX,</b> the boys team brought home another victory by the identical 7-2 score. Drew Courtney routed his 2007 Concorde District and Northern Regional finals opponent, Sid Balaji, 10-0.
Drew showed the crowd a complete game as he displayed a maturing style, using defense as well as his arsenal of weapons plus a competitiveness that never let his rival into the match.
The closest singles dual came at the No. 2 spot, where Kevin Castellow encountered a tough freshman in Jason Luu, a highly ranked Mid-Atlantic player. Castellow's powerful baseline game was countered by the freshman lefty's backhand slice. After falling behind, Castellow fought back to take a 10-9 lead. However, Luu forced a tiebreaker and ran out the string, 7-2. Sam Coster, at No. 6 singles, was seemingly off the court before warmups ended, pouncing on short balls and completely overpowering his freshman opponent, Justin Lee.
Billy Nason, No. 4 singles, followed soon after with a 10-2 win over Derek Bannatyne. Doug Gallagher shut out a substitute at the No. 3 singles slot. In the other tightly contested singles match, Nico Papageorge overcame an experienced senior at No. 5, 10-8.
Doubles saw a big upset as Courtney and Stephen Hardy, after serving for the match twice, fell in a tiebreaker to Balaji and Luu. Hardy suffered an elbow injury which has limited his playing time.
Gallagher and Nason teamed up for an 8-1 win and Coster teamed with David Eackloff to win 8-2 at No. 3 doubles.