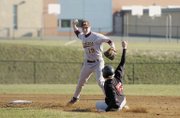 One of the key factors in the Broad Run High baseball team's success this season has been its speed on the base paths.
In four different games this spring, the Spartans have been eight-for-eight in steal attempts.
The ability to steal has allowed Broad Run hitters to step up to the plate with teammates in scoring position. Certainly, the team's ability to utilize its speed has helped the Spartans score 10 or more runs in each of their last six games going into this week's action.
Broad Run (6-1 overall, 2-0 in the district) has district wins over Briar Woods, 10-0, and Freedom, 11-1.
While pitching and team defense have been Broad Run's biggest assets in recent years and this season as well, one can not underestimate the importance of the team's speed on the base paths.
"Defense and pitching is our known strength," said Broad Run coach Pat Cassidy. "In the long run, defense carries you. [But] I'm glad we're also putting up all these runs.
"I think we're running the bases well," said the coach. "We only have seven or eight hits a night, but we have guys in scoring position. We're moving up on [balls in the dirt] and steals of second base. We have six or seven guys who are free [to steal]. We're flying around the bases and our hitting is catching up."
The Spartans stole eight bases in the win over Briar Woods a few weeks ago. Last week, in Broad Run's win over Freedom, five base runners advanced on pitched balls into the dirt.
Senior outfielder Andrew Mann has nine steals in nine attempts this season, while Chris Jessop is perfect in seven tries. Other Spartans who have had success stealing are leadoff hitter Adam Luhmann (5-of-5), Ryan Diviney (4-of-4), junior outfielder Patrick Murphy (4-of-4) and Trey Brocke (4-of-4).
"Speed shows up every single inning," said Cassidy, of the team attribute that has contributed both on offense and in the field. "It's running down balls in the outfield, getting into scoring position and putting pressure on other teams."
<b>CASSIDY</b> is certainly pleased with his team's fast 6-1 start this season. But he cautions that last year's Spartans also began the season fast at 5-0 before losing five straight games. Eventually, the Spartans righted themselves and went on to capture the regular season district title.
"We realize we still have two-thirds of the season left," said Cassidy. "I think this team's a lot more mature this year. We're off to another good start and we have as lot of kids back from that [2007] team. But a good start does not equate a good finish."
In last week's win over visiting Freedom, Broad Run starting pitcher Cole Shain (3-0) earned the decision with five solid innings of work, allowing one run and five hits, and striking out five. The game ended after Freedom's at-bats in the top of the fifth inning due to the 10-run mercy rule.
Offensively in the win, Mann had two hits, stole two bases and scored twice, and Murphy scored two runs and stole two bases.
Broad Run was scheduled to play three district games this week against Heritage on Monday, Loudoun County on Tuesday and Park View on Friday at home.