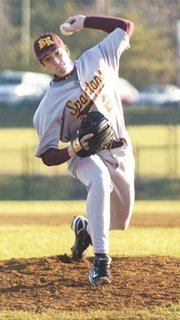 Broad Run High's J.P. Devlin threw six strong innings to lead the Spartans' baseball team in a 10-2 win over non-district opponent Manassas Park last Saturday. With the win, Broad Run improved to 5-1 on the season.
Devlin, a senior who was making his first high school pitching start, went six solid innings, allowing two runs (one earned). He gave up six hits and struck out three.
Offensively, Broad Run received stellar outings from senior catcher Tommy Meier (3-for-3, 2 RBIs), senior outfielder Andrew Mann (2 hits, 2 RBI) and junior outfielder Patrick Murphy (2 hits, 2 RBI).
The game against Manassas Park was the third of the week for Broad Run. The Spartans also played and defeated both Briar Woods, 10-0, on Tuesday and George Mason, 13-3, on Wednesday.
The Tuesday game win at Briar Woods was the Dulles District opener for the Spartans. Broad Run starting pitcher Cole Shain, a senior left-hander, earned the win. He allowed just one hit over 6-1/3 innings of work while fanning seven batters and walking one. The only base hit Shain (2-0 record) allowed was an infield single in the seventh inning.
Offensively, Mann scored two runs, walked twice and stole two bases to ignite Broad Run. Murphy also had two hits with two runs scored and a steal.
<b>THE FOLLOWING DAY</b> saw the Spartans defeat Mason, 13-3, in a non-district home game that was shortened to five innings as a result of the 10-run mercy rule. Trey Brocke, a senior, earned the win in a complete game (5 innings) outing. Brocke (2-0) allowed three runs and seven hits, while striking out four and walking a pair.
At the plate, Broad Run's top three hitters of the line-up, leadoff batter Mann, No. 2 hitter Chris Jessop and No. 3 hitter Shain, had productive games.
Mann hit a leadoff triple in the first inning and finished the contest with three hits, four runs scored and two stolen bases. Jessop, the team's junior shortstop, knocked in two runs, scored three times and stole two bases. And Shain, serving as the designated hitter, had three hits, including two doubles, while knocking in two runs. It marked the second time Broad Run has beaten the Mustangs this season.
Over spring break two weeks ago, Broad Run played a pair of games in Virginia Beach where they split a pair of games. The Spartans lost a slugfest against Hampton Christian, 11-10, then defeated Norfolk Christian, 12-0, the following day.
Brocke homered and hit two singles in the loss to Hampton Christian. Murphy contributed a double and single and senior third baseman Kurt Reitzel had two singles.
In the shutout win over Norfolk Christian, Shain tossed five shutout innings, allowing three hits and fanning five, to notch the win. At the plate, Brocke tripled and scored three runs, senior outfielder Ryan Diviney had two hits and five RBIs and Tyler Small had a base hit and three RBIs.