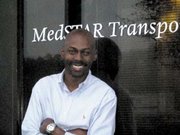 Hopefully you'll never have a reason to need Allen Wolfe's services, but if you do, you'll be very happy when you see him coming at you from out of the sky.
Wolfe is a MedSTAR Transport Nurse. His job is to fly in medical helicopters and give sustaining care to people who are critically injured.
Wolfe, an Arlington resident who works at the Washington Hospital Center in Washington D.C., was recently named nurse of the year by the Air and Surface Transport Nurses Association.
In an interview with the Arlington Connection, Wolfe talked about landing his helicopter on the Capitol, feeling bad for people stuck on the Beltway as he hovers over them and, of course, Billy Dee Williams.
Arlington Connection: How did you become a MedSTAR Transport Nurse? What attracted you to this job?
Allen Wolfe: I became a MedSTAR Nurse after working two years in the Cardiovascular and Heart Transplant ICU at the Washington Hospital Center. I had five previous years in Critical Care experience prior to starting at WHC. I applied to MedSTAR after the two years at WHC and became interested after watching the helicopter land and bring in some very critical patients from our upstairs window. I thought, "Now that's an interesting job."
AC: Have you ever had to make any unusual rescue missions on your helicopter? What was the most unusual place you have ever had to rescue someone?
AW: The most unusual place was in front of the U.S. Capitol [before the] 9/11 [attacks] for a demonstration of our capabilities as a program to members of the Capitol Medical Corps. That was with permission. Nowadays, that's highly unlikely and takes a few more phone calls. The most unusual rescues are on the beltway during rush hour. I just feel for the citizens trapped in traffic. I just land [and] grab the patient and fly out over the hours of gridlock. As a program, we responded to the Pentagon attack and that was a defining moment for our program but I was not on that mission.
AC: How is being a transport nurse in Northern Virginia different from being a transport nurse in other areas that are more rural? How does the urban nature of the area affect your job?
AW: The Washington area is high profile and there are so many people compared to the rural areas. We have "urban issues" and a large amount of traffic accidents. We deal with buildings and they deal with mountains. Our transports are shorter and theirs are longer. We have multiple hospitals to choose from… and rural areas do not and usually call us to bring them to the city.
AC: Can you fly a helicopter? Have you ever wanted to learn how to fly a helicopter?
AW: I have never flown a helicopter and have no interest. It is very complicated and the excellent pilots we have all have trained for many, many hours to get their license. It would take me a while to get some courage. Those guys are awesome!
AC: What brought you to the Washington D.C. area? How long have you lived here?
AW: I moved to the Washington area when I enrolled at [George Mason University] in 1980 as a nursing student. I came to GMU to play Division 1 volleyball from Mobile, Ala. After going to the Final Four and finishing third my senior year, I graduated with my nursing degree and stayed in the area.
AC: Where did you go to school to learn how to become a transport nurse? Are there special schools for this?
AW: I graduated from GMU in 1984 and graduated from Marymount University here in Arlington this December with a Masters in Critical Care Nursing. The aviation training was in the training at MedSTAR. I came with seven years of critical care experience. There are no flight nurse schools for training but there is a Masters in Flight Nursing School at Case-Western [University in Cleveland, Ohio]. It's the only one in the country.
AC: What is your favorite movie?
AW: It's "Mahogany" starring Diana Ross and Billy Dee Williams. It reminds me of my Mom and Dad. I've seen it at least 100 times. It's weird, I know.
AC: If you could take a road trip to anywhere in the world, where would you go? Would you take your helicopter?
AW: I would like to go to China and Africa. I would like to go to them because we don't know at lot about them and I love to go to countries where English is not the main or secondary language you hear. I'm planning on going with a friend who is from there next year. I have traveled to all the Scandinavian countries, all of Western Europe, Brazil, Fiji, Australia, New Zealand and the Caribbean. I usually take a helicopter ride in most of these countries I have traveled to. The most impressive was in Rio de Janeiro, Brazil when the helicopter flew above and hovered over the statue of Christ the Redeemer. It was unbelievable and mind-blowing.