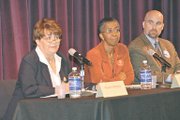 Residents of Hunter Mill District tend to agree that residential and commercial growth in the district in the foreseeable future is inevitable. What they want to know is how that growth will be managed and what benefit it will have on the existing community.
One of the main concerns is that the roads in place today are not adequate to support the planned growth. "The roads are certainly not adequate," said "Spike" Williams. He said creative solutions are needed to ensure the roads and other infrastructure is built up before the growth occurs. "Solutions where developers are made to come to the table and contribute towards the infrastructure they are creating the need for," said Williams.
One such creative solution, said incumbent Cathy Hudgins, is to create special tax districts. In the Route 28 corridor, she said, developers agreed to tax themselves to provide for that corridor's road improvements. She urged that voters in the November election consider the bond referendum in which Fairfax County is proposing putting forth $110 million for transportation improvements, even though "roads in the Commonwealth are the responsibility of the Commonwealth." Hudgins said, "Growth will occur either way. How we manage it is the question."
Marie Huhtala said all of the existing major roads in the area are failing to provide the service they were built to provide. She agreed with Hudgins that the county board is not responsible for the roads, but it is responsible for much of what impacts them. "It's true that supervisors do not build the roads, but they do approve rezoning," said Huhtala.
Hudgins, Huhtala and Williams, all candidates for the Hunter Mill District supervisor seat, addressed the district's voters at a Saturday morning, Sept. 29, forum at Reston Community Center at Hunters Woods. The Alliance of Reston Clusters and Homeowners (ARCH) sponsored the forum, which attracted about 70 people on a Saturday morning. Jerry Volloy, ARCH president, said the questions chosen for the candidates all addressed quality of life issues for people in the greater Reston area, although voters from all around Hunter Mill District were welcome to participate and ask questions.
DEVELOPMENTS REGARDING the construction of the metro extension to Dulles Airport and beyond, through Reston, were prominent in Saturday's forum. Moderator Robert Goudie asked at what point does the cost of building the extension outweigh its benefits.
"Rail to Dulles is essential, but the current plan is not cost-effective," said Huhtala, an Independent candidate. She said that the current plan also calls for an elevated track through Tysons Corner, which is something the residents in that area do not want.
"Yes we need metro, but we need it right," said Williams. "We've already reached the point where the cost is unjustified," he said.
Hudgins said that the extension has been in the planning process for 40 years. "We can't afford to keep planning," she said. Hudgins added that in the debate over the cost-benefit analysis nobody is taking into account air quality.
Vienna resident Bonita Pennino said she is concerned about the traffic congestion Vienna would experience as a result of the metro construction in Tysons Corner. The candidates answered her question in terms of redevelopment of Tysons Corner, but Bonito said that does not concern her, just the metro construction. "We want that density [in Tysons] because that means more open space somewhere else," she said.
Sticking with metro-related questions, Goudie asked about the proposal to cut $40 million intended for the Wiehle Avenue 2,300-spot parking garage. He also asked the candidates whether 2,300 spots is big enough for a station proposed to be a terminus for when the first phase of the extension construction is finished.
"I'm not sure 2,300 spaces are enough," said Huhtala, adding that cars unable to park at the garage would seek parking on Reston's streets. She took exception to the proposed cutting of funds for the parking garage. "If they want to trim costs, why don't they look at that non-bid contract," said Huhtala.
"If we don't make Wiehle the endpoint for the foreseeable future then 2,300 [spots] is great," said Williams.
Mike Corrigan, president of Reston Citizens Association, said ending at Wiehle "is and always was a terrible idea."
AFFORDABLE HOUSING played a prominent role in questions from the audience. The audience was interested in one could find affordable housing being built where in the Hunter Mill District. Hudgins said that low-income housing is being integrated in all new developments. "I hope you can believe it's everywhere you look and I hope it's in your neighborhood," said Hudgins.
Huhtala said that instead of being everywhere, affordable housing is clustered in certain neighborhoods in the district and the county. For example, she said, she does not know of any affordable housing in Great Falls. "Affordable housing needs to move to all of the neighborhoods in this county, not just ones that already have it," she said.
Williams, who said he grew up in a family with meager means, said he could not answer the question, because he does not know of any places in the district where affordable housing is being built.
The candidates also addressed the planning process, and how they would go about it if elected. When planning for the district's growth and development, Hudgins said, she looks to the future. If planners did not look to the future from the time she moved to Reston, 38 years ago, today's Reston would not be what it is today. "I am thankful it doesn't look exactly like it looked 38 years ago," said Hudgins.
Huhtala said if she was elected, she would open up the planning process to the community, appointing residents of all points of view on task forces. "The key is not what kind of plan I would put together, but what kind of plan the people who live here would put together," said Huhtala.
Williams said he would create a network of homeowner associations to look at issues important to their communities. As homeowners, he said, they should have say in what happens in their communities' future.
Corrigan said the forum addressed a variety of key issues in the district, but missed an opportunity to address global warming and other environmental topics.