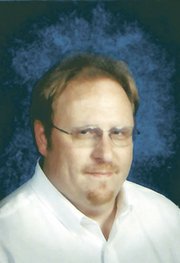 Scott Meyer is a teacher at Rolling Ridge Elementary School in Sterling. He was recently nominated as a "Who's Who of American Teachers" for the fifth year in a row.
What community are you a member of, what brought you to it and how long have you been here?
I am a member of the wonderful community of Lovettsville, and have been so for the past three years. When I first moved to the area after I received my teaching job, I was looking for a rural place that was in the middle of everything, and a place in Lovettsville fell into my lap.
Family:
My mother, father, and two younger sisters. I am also the uncle of two nieces and a nephew.
Where did you get your education and in what areas?
I received my education from the University of Pittsburgh at Johnstown. My major was elementary education and my minor was history.
How would you describe yourself?
Unpredictable, because I always like to keep people guessing what my next move, plan or thought will be. I am also outspoken, especially when there's a cause that I truly believe in. Finally, I am energetic, like to take chances and am glad to be a teacher. I enjoy being in front of my children and sharing my love of all subjects, especially history.
What do you consider to be your biggest achievements?
My biggest achievement was being nominated for a fifth time in the "Who's Who Among America's Teachers" registry.
Activities/interests/hobbies?
Playing drums, listening to music, writing songs and poems, playing volleyball, studying history (especially the Civil War), visiting and exploring historic places, hiking, cruising in my Mustang and checking out old "muscle" cars.
Favorite local restaurant or place in the community?
My favorite place in Lovettsville is Bonnie's Country Kitchen … great food and service. My favorite place in Sterling would be Dunkin Donuts. I love their coffee and the service is excellent.
What would you change about your community if you could?
I would get the ball rolling on our proposed "Town Center," but otherwise, it's a great place to live.
Who is a historical figure you would like to meet?
Robert E. Lee. He was one of the greatest generals during the Civil War and in American history. I would like to sit down with him to discuss tactics and his leadership qualities.
What community "hidden treasure" do you think more people should know about?
About three miles outside of Lovettsville, across the Potomac, is the C&O (Chesapeake and Ohio) Canal and the historic town of Brunswick. Both are important, because they had a significant role in America's quest for better transportation … canals and railroads.
When you were younger, what did you want to be when you "grew up?"
I wanted to always join the military. As it turned out, I enlisted in the U.S. Navy, served aboard two ships, was part of the "Seabees," and received an honorable discharge.
What are some of your personal goals?
Some of my personal goals are to continue to enhance my curriculum, especially in history, continue to keep making all of Virginia history classes fun, interesting and exciting, and to eventually get my middle-school certification so that I can teach up to eighth grade.
Favorite movie or book?
My favorite movie is "Gettysburg," while my favorite book is "Landscape Turned Red," which is about the Battle of Antietam.
Describe how you would most enjoy spending a single day?
By taking a drive throughout Loudoun County and revisit all of the places that I got to travel to while taking my Loudoun County history classes. Anl Park and walk the entire battlefield.
If you could be anyone else, who would you be and why?
I would like to be a member of the "Corps of Discovery," the group led by Lewis and Clark as they journeyed across the area known as the Louisiana Purchase, sent by President Jefferson. That journey has got to be one of the most challenging events in all of American history and to be a part of a monumental event such as that, plus to face death day after day, meet unknown tribes of Native Americans, find new plants and animals, would have been a real adventure.
Do you have a favorite quotation?
"Those who cannot remember the past, are condemned to repeat it." George Santayana, philosopher. The most common version is, "Those who ignore history are doomed to repeat it."
How do you get nominated for the "Who's Who of American Teachers?"
One gets nominated by students who have been nominated in the "Who's Who Among America's High School Students" registers, as well as by School Board members or colleagues.
What does it mean to you to be nominated?
It means that someone appreciates me as an educator and took the time to show that appreciation. Most of my nominees were by those who were "Who's Who Among America's High School Students," while one was by a board member or colleague. It is a great honor to be remembered by your very own students that you teach, board members that you work for, or colleagues that you work with, showing that I've made a difference in someone's life, especially being nominated five times.
What do you most enjoy about teaching?
I enjoy teaching my Virginia studies and especially the fact that everyday won't be the same. There's always going to be some challenge that will come up during the day, and I love a good challenge, and I care about my kids.