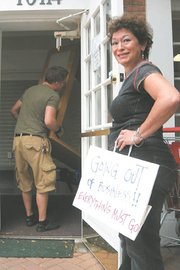 Flaps restaurant will close its doors in Potomac Village at the end of the month, but another local store just around the corner has beaten them to the punch. La De Da, which specialized in contemporary, handcrafted art, closed its doors on Sept. 30.
The closing was prompted by "obscenely high rent," said Cathy Kwart, who owned and operated La De Da for nearly 12 years.
"It was a nice little addition to The Village," said Shirley Kahan, an occasional La De Da customer who stopped by as Kwart was clearing out the last of the furniture in her shop. "I like the store, she has very unique things," Kahan said.
The store, which sat in between Starbucks and Renato restaurant, sold hand-blown glass, ceramics and jewelry made by artists from all over the country and some international artists as well, Kwart said. The space that it occupied will now be open to "whoever can sign a long-term lease for a lot of cash," said Kwart.
Kwart's is the latest locally owned store to close in Potomac Village.
"That just breaks my heart — I mean all the good things that have been here that fall by the wayside just because it gets too expensive," said Elie Pisarra Cain, who co-owns and leases several commercial spaces across River Road from Potomac Place shopping center where La De Da sat and Flaps are.
"I think a lot of it is just a function of higher rents and the smaller people just [can't handle] it anymore," Cain said.
Cain said that as the local stores have moved out of Potomac Village, they have frequently been replaced by banks and chain stores.
"The rents are market-driven and in many instances they've been structured to try to accommodate diversity," said James Rich of Zuckerman Gravely, the company that owns Potomac Place shopping center.
"I think the [Potomac Place] shopping center has a very nice diversity," said Rich. "We've tried to keep a lot of local stores rather than national chains. The stores there are, by in large, local stores that respond to the services that a local community like Potomac would like to have."
More and more, that is not the case, Kwart said as she moved out of her old store on Monday.
"This center's really going to lose its local flavor," said Kwart.
Kwart, a Chevy Chase resident, said that more than anything about running her store she will miss her customers, but she said that she does not intend to reopen her store elsewhere.
"I would have to go too far to find reasonable rent," Kwart said. Instead, Kwart said she intends to spend her time enjoying herself.
"I'm going to go do something else fun, take some art classes, volunteer at some of my favorite museums," Kwart said.