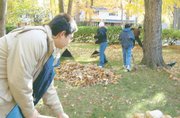 Three teens, wearing gloves and carrying rakes, piled out of the car as it pulled up to the shady front lawn of a Kings Park home. As they made their way up the yard, they quickly saw from the piles of brown and yellow leaves that they had their work cut out for them.
"Oh, this is the big house, I remember this from last year," said Langston Hughes Middle School student Mercia Spicer, 13.
The teens were joining nearly a dozen more volunteers to rake leaves at the house as part of a day-long volunteer project designed by Kings Park resident and accountant Shin Nan Goto, 24. Started by Goto and his family in fall 1998 as a direct response to Hurricane Mitch relief efforts in Central America, the annual leaf-raking project has raised more than $10,000 for a number of different domestic and international charity groups in its history.
This year, the project looks to benefit the Home of Love Lenard Wells Ministries' orphanage and school in Nakuru, Kenya. Goto estimated that the volunteers would raise approximately $1,500 in about eight hours of work.
"I look forward to it every year," said Goto. "It's about helping out the charities, but it's also about helping out the community."
"When you look at the neighborhood, there's a lot of trees here and there's a lot of elderly people who live here and they might not be able to do it on their own, so this helps them by making their neighborhood look a little nicer."
The leaf-raking fund-raiser has been a normal part of the pre-Thanksgiving weekend, said Chris Lamb, a Kings Park resident and senior research fellow who has had his front lawn raked by Goto's volunteers for the last four years.
"I just like the fact that they're young people working for a good cause, they do a great job and help out both here and abroad," Lamb said. "And we like having the leaves raked as well," he added with a laugh.
Lamb has not been the only one. Over the years, the sight of a dozen or more volunteers arriving to clean up residents' yards has become a tradition among Kings Park, Goto said.
"There's a certain kind of energy you have when you see all these kids descend on the lawn and whip it all up," he said. "In the community, it's really become its own entity, people … will call us up and wonder when we're doing it."
FRIENDS AND the opportunity to help out a worthy cause through yard work was what drew 16-year-old volunteer Tanya Selle, of Bowie, Md., to the Kings Park leaf-raking fund-raiser.
"Oh, I love raking, it's a passion of mine," she said with a laugh. "Seriously, it's a worthy cause and I wanted to do what I could to help out."
For Spicer, it was the chance to join with friends in lending a hand around the world at Thanksgiving that drove her to volunteer.
"There's so many bad things happening in the world right now, there are kids without homes, without food," she said. "You take everything for granted, so it's good to look around and help out when you can."
For Goto, who has visited AIDS orphanages in Senegal and Trinidad, it is the look of absolute appreciation on the faces of AIDS orphans that was most inspiring to him in organizing the project.
"It's just one day of work, but it can mean so much for the people who are involved," he said. "Raking leaves, it's a unique niche that we've found and I think we've created something here that will go on for years and years."