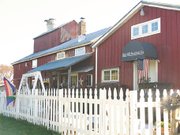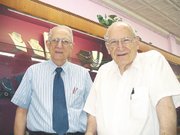 Some are born shoppers while others view gift buying as a challenge. With the holidays approaching, people don't need to travel far to make purchases for family and friends and get their homes ready for the holidays. Shoppers and nonshoppers can get the job done and catch up on neighborhood happenings at downtown local businesses.
Merchants are ready and looking forward to a great 2007 holiday season
Omia's Restaurante, 22034 Shaw Road, Sterling, is a great way to get fueled up for a shopping excursion. It's located in the Old Sterling area off of Church Road. Chef George Fuentes, straight from Las Vegas, will satisfy your appetite. With 23 years of cooking experience, Fuentes does it all from from chicken and dumplings to gumbo. All-American food, Cajun-, Italian-, Greek-style food are featured dishes. The menu is extensive, prices are good and the atmosphere is friendly.
"We offer home-cooked meals and we're family orientated. Specials are run every day," Fuentes said. Amber Webb, Omia's employee, said that they have quite a few local regulars. There is no longer direct access to the restaurant from Route 28, but it doesn't deter loyal customers. Omia's is open at 6 a.m. and closes at 11 p.m. on the weekends. Some sports and furniture shops are also in the Old Sterling area.
JUST NORTHWEST of Sterling is Olde Town Ashburn on Ashburn Road. Bicyclers often ride along the Washington and Old Dominion Bike Trail, a 45-mile paved trail that goes from Purcellville to Shirlington near Washington, D.C. Shopkeepers say this area is very busy, especially during the summer. One of the businesses is Olde Mill Furniture Company, owned by Julie Davis. Located in a century old mill, her business has a variety of Amish-made solid wood pieces. There are a large variety of woods to choose from and pieces can be custom made. Numerous home décor accessories are available as well.
Next door at the Carolina Brothers Pit Barbeque, hungry shoppers can taste Danny Hurdle's North Carolina-style barbeque. It's housed in the historic Partlow Brothers store. Updates are being made on the building, but many original features such as the floors remain. Hurdle sells specialty barbeque, baby back ribs, side dishes and homemade pie. People can save time cooking for holiday parties by placing a catering order. Hurdle's father ran a barbeque restaurant in North Carolina and Danny Hurdle wanted to bring the North Carolina flavor to Virginia. It has been selling well in Ashburn. He and his wife, Mary Anne, have been in business in Northern Virginia for about 25 years.
"Danny is the best employer in the entire world. I've worked with him for 22 years. He and his wife are fantastic," said employee Jean Craven.
LESS THAN eight miles away from Olde Town Ashburn is downtown historic Leesburg, off of Route 7. Parking is available inside a public parking garage or on street. South King Street and nearby blocks offer many antique shops, boutiques, art galleries, country gift shops and restaurants. Catheran Johnston Antiques, 14 South King St., Leesburg, has been in operation for 30 years. Cassie Johnston specializes in 18th and 19th century period pieces and accessories and her buyers stretch from Manhattan to the Carolinas. She has a passion for fine pieces and design and has worked in this field since she was 18 years old.
"Sellers need to give knowledge to customers about their purchase so they understand what they're buying," Johnston said. "Customers should be get the absolute best product, have fun during their shopping experience and go home with something they cannot live without."
Johnston enjoys the Leesburg community and said, "It's a great town where people take care of each other. There's a lot to be said for that."
Across the street is Caulkins Jewelers owned by brothers Stanley and Roger Caulkins. Buyers can purchase fine jewelry and have any jewelry repairs taken care of. Other gift items are available, too. Their business has been at 11 South King St. for the last 57 years.
"This building used to be a grocery store and I worked here as a child," Stanley Caulkins said. "I've watched so many things change. In 1940 there were about 1,800 people in Leesburg. Now there are almost 38,000 people living here."
Inga Hale of Leesburg said she knew Stanley Caulkins since she was a child and that he is a pillar in the community.
Also on South King Street is The Potomac Gallery, 26 S. King St. People can buy original art created by Loudoun artists along with originals and reproductions from other artists. Sculpture, glass and other fine gift pieces are available.
"We can help people get their homes ready for the holidays. We have art from the St. John's Bible, a handwritten, illuminated Bible and also books, prints and cards," said Julie Doiran, one of the owners of this 15-year-old family business.
Customers can visit area businesses to find gifts for their friends and family and also find out what's going on in neighborhoods. Local businesses will assist with holiday gift and home preparation needs so customers can complete their missions and have some fun in the process.