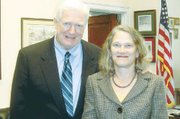 For Alison Fields, there's no word in the English language that comes close to explaining the message at the heart of French President Nicolas Sarkozy's message to a joint session of Congress last week.
For Fields, who teaches French at T.C. Williams High School, the word at the tip of her tongue is rapprochement, the French expression expressing a reestablishment of harmonious relations between nations.
"He did not mention Iraq, and I think that was pointed," said Fields. "But he did stay that the French would stay in Afghanistan as long as it took, which is something I had not heard before."
Fields attended the joint session of Congress at the invitation to Rep. Jim Moran (D-8), who wanted to extend an invitation to a French-speaking constituent. His office contacted the high school, and the invitation was extended to Fields. She arrived at the Capitol with an open mind and an ability to understand Sarkozy's speech without translation. From her seat in Gallery 8, the French teacher carefully listened to the message of the speech, but she said she was also concerned with Sarkozy's use of the French language.
"It was erudite in its structure and maybe less so in its content," she said. "He used the subjunctive beautifully."
THE POLITICS OF WAR have strained relations between France and the U.S. in recent years. When President George W. Bush was building a case for war in 2003, French President Jacques Chirac was a leading voice of criticism against the U.S.-led invasion. Republicans who were then in control of the Congress responded by re-writing the menu in the House of Representative's cafeteria to sell "Freedom Fries" instead of "French Fries." The menus were only recently redrawn with Republicans lost control of Congress in 2006.
"The guy who was responsible for that was Bob Ney, and he's in jail now," said Moran. "So I think a lot of members of Congress have come to realize how nutty that whole 'Freedom Fries' thing was."
Now that French Fries have been restored to their rightful place on congressional menus, and France has elected a new leader, things have changed. Sarkozy is just as critical of the Iraq war as his predecessor, yet his speech to Congress praised the "American Dream," Elvis Presley, Marilyn Monroe, Martin Luther King and John Fitzgerald Kennedy.
"The French people are nuts about JFK," said Fields, who said the cultural references would be teachable moments in her T.C. classroom. "Both countries admire each other but they are also envious of each other. In terms of the relationship between the two countries, I think Sarkozy wants to return to the kind of relationship that Lafayette had with Washington."