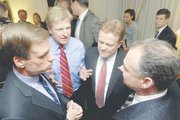 Virginia Democratic leaders reflected on what a difference seven years had made as they soaked in the results of the General Assembly elections Nov. 6. Democrats reclaimed control of the state Senate and picked up at least four additional members in the House of Delegates on Tuesday. In 2000, the party held no statewide offices in Virginia and Republicans outnumbered them two to one in the General Assembly, according to former Gov. Mark Warner.
"Six years ago, the press and pundits said Virginia wasn't going to be a competitive state anymore. We have proved them wrong," said Warner to a crowd of Democratic activists and candidates gathered at the Democrats election night celebration in Tysons Corner.
Several Democrats credited their elected officials' responsible leadership for bringing about a shift in party control and weakening the Republican's grip on the commonwealth.
Virginia has thrived under Warner and the state's current Governor, Democrat Tim Kaine. Sen. Jim Webb, (D-Va.) elected in 2006, has also proven to be a national leader, particularly on issues related to the Iraq War and veterans benefits, they said.
<B>THE DEMOCRATS'</B> statewide gains also reflect resident's satisfaction with Democratic leadership in Fairfax County, said some local elected officials.
"We have worked so hard to build a Democratic majority district. ... We have been providing good local government for a long time," said Fairfax County Board of Supervisors Chairman Gerry Connolly, who won his own re-election with more than 60 percent of the vote.
Fairfax voters delivered two of the four seats the Democrats needed to pick up in order to gain control of the state senate and one of the four new party seats in the House of Delegates.
The county could also deliver a fifth senate seat depending on the results of a close race in the 39th senate district between Democrat Janet Oleszek and Sen. Ken Cuccinelli (R-37).
Cuccinelli led Oleszek by 91 votes out of more than 37,000 votes cast in the race, according to unofficial results. The two candidates are awaiting an initial review of the ballots taking place at the Connection's presstime.
Election results in local county government mirror those in state races. Fairfax County Democrats picked up at least one more seat on the Board of Supervisors, with John Foust edging out Republican incumbent Joan DuBois in the Dranesville District.
Beside the Clerk of Court race, Democrats took all the county's at-large races. Dale Evans, Democratic challenger for Clerk of Court, had not yet conceded the race, despite being behind incumbent John Frey by more than 1,000 votes.
There were no cases where a Republican challenger unseated an incumbent Democrat in Fairfax, according to results.
Several Republican candidates for state and local races admitted it was a tough year for their party, particularly because they are saddled with a very unpopular U.S. president.
"You can see it all over the state, this is not the year for Republicans," said Sen. Jeannemarie Devolites Davis (R-34), who lost her seat to Democrat Chap Petersen. "But it's cyclical, and our time will come again. People just felt like it was time for a change."
<B>DEMOCRATIC GAINS</B> in the General Assembly will have a large impact on Northern Virginia in particular, said Sen. Dick Saslaw (D-35), who is likely to be elected majority leader when the senate convenes.
The Senate, which is dominated by moderates from both parties, will probably not shift dramatically from an ideological standpoint as a result of the Democrats coming to power. But for the first time in history, Northern Virginians will hold several of the legislative branch's most powerful positions, said Saslaw.
Sen. Chuck Colgan (D-29) will probably take over as chair of the senate finance committee. Fairfax senators Janet Howell (D-32), Mary Margaret Whipple (D-31), Patsy Ticer (D-30) and Saslaw will also chair committees, he said.
What may be more important, however, is the position Democrats will be in during the next round of congressional and General Assembly redistricting after the 2010 census, said several party leaders. Having secured a majority in the state senate, the Democrats will have a say in the process — which they had been shut out of last time.
The state may also see more attention from U.S. Presidential candidates during the general election next year because it will be viewed as more friendly for Democrats, said Del. Brian Moran (D-46), the House of Delegates Democratic caucus leader.
The party's momentum will also help Democrats in next year's U.S. Senate race, in which Democrats say Warner is the heavy favorite to win. Former Gov. Jim Gilmore is the likely Republican candidate in the race.
<B>THE FAIRFAX</B> County Board of Supervisors and the school board have had sizable Democratic majorities and the additional seats are seen mostly as a validation of the county government's current leadership, said candidates.
"It is an affirmation of our values and that people in Fairfax County expect government to work," said Connolly in his acceptance speech.
Many school board candidates said a Democratic sweep of the body's three at-large seats is particularly a testament to voters satisfaction with the party. One of the successful at-large candidates, Jim Raney, won even though he did not put any yard signs in public space and was not allowed to campaign actively as a Democratically endorsed candidate because he is restricted as a federal employee.
"Jim Raney had no signs but he was listed on the Democrat's sample ballot," said Tina Hone, a Democrat and the at-large school board candidate to win the most votes.
"When you have straight party voting like this, that momentum is really hard to overcome," said At-large school board member Steve Hunt, who lost his seat to Raney despite several high-profile endorsements.
This week's election results may also have an impact on Fairfax County's congressional representation. Many political observers speculate that U.S. Rep. Tom Davis (R-11) will consider not running for reelection after his wife's defeat in the 34th district state senate race. Davis, who has ruled out a bid for the U.S. Senate, said he will announce whether he intends to run again later this month. In an interview earlier this month, the congressman said he and Devolites Davis had recently been through many grueling campaigns — including her senate race and his congressional race last year — and that he had opted out of running for U.S. Senate in part because the couple was exhausted.
If Davis does not run, the Democrats may have a good chance of winning the seat, said members of the party. Former U.S. Rep. Leslie Byrne — who lost to Davis in 1994 — has already said she will run as a candidate. Connolly is also thought to be considering a bid.
Connection Reporter Scott Krischke contributed to this article.