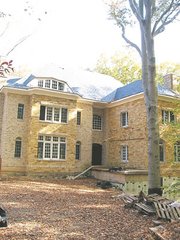 Oh, for the glory days of 2005, when anyone selling a house was almost guaranteed multiple bids, when buyers were lined up around the block for one property and houses were selling for tens of thousands of dollars more than the asking price.
These days, homes are on the market for months before a bid is offered, and sellers are lucky to get what they ask for on their home.
However, not all is lost in the real estate market in Fairfax County, said Jill Landsman, communication and media relations manager for the Northern Virginia Association of Realtors.
"We are still in a state of market correction," she said. Until late in 2005, houses were selling for more than they were worth and prices were skyrocketing. Now, those prices are adjusting to a more reasonable rate.
Fairfax County is in a more stable place, market-wise, than many areas across the country because of the strong job market and the location close to Washington, Landsman said.
"If you look at Detroit, Dallas, Denver or even parts of Ohio, those cities are pummeled with houses on the market because the local economy is in shambles," she said.
ANOTHER factor in the market that may cause some confusion is the abundance of homes for sale because their previous owner could not pay their mortgage payments, causing their lender to foreclose on the house.
Landsman said many people who received the no-money-down loans a few years ago should have been denied the money because they did not have sufficient credit or collateral to prove they could keep paying on their loans.
Still, the number of foreclosures, although numerous in some areas of the county, is nothing compared to other cities in the country.
Buying a home in foreclosure requires extra steps, including proving to the lawyer representing the bank which owns the house that the buyer has sufficient means to make that purchase, she said.
If a house in foreclosure does not sell for what the bank is asking, Landsman said, it may then go to auction and sell for a slightly lower price.
There are three types of houses and buyers, she said: the first-time buyers looking for a starter home; those same buyers a few years later who are ready to move into something bigger, and the people who have established their credit and equity in previous homes and are ready to make a larger investment.
The market for higher end homes has not fluctuated in the past few years, according to Alicia Yowell, a Realtor with Long and Fosters who is contracted to sell a home in Clifton for $9.35 million.
Among the long list of amenities this house will have, once completed, are two theaters, nine fireplaces, an endless lap swimming pool, a billiards room, vaulted ceilings and a guest suite.
"It's a niche market," said Yowell of this property, which is still under construction but slated to be finished by the end of the year. "The challenge is finding the right person for the house."
Describing the massive 24,000-square-foot house as "an American castle," Yowell said she has never seen anything like it in the region.
Buyers in the market for a multi-million dollar home, whether in the $1 million or $9 million range, are not going to be in danger of defaulting on their mortgage and are most likely willing to spend whatever they have to to get what they want in their homes, Yowell said.
The good news overall is that homes are still selling, Landsman said.
In one Springfield neighborhood, for example, eight homes sold in September compared with 10 homes a year before. The average sale price may have slipped from $575,086 to $428,564, but Landsman said the number of homes sold is too small to declare a trend.
JUST ACROSS town, however, 28 homes sold in September 2007 compared with 32 homes a year earlier. But these homes sold, on average, for more than a year before, $550,723 over $449,222.
"Things haven't dropped, they just tapered down," said Bruce Tyberski, a Re-Max agent and part of the Bruce and Tammy team.
He agrees that no-money-down loans "flooded the market" a few years ago when it was booming. However, Fairfax County has a relatively stable market and always has, he said.
"Houses are selling within 30 to 60 days instead of weeks, but they are selling," Tyberski said. "If your house is priced well and looks good, it'll sell."
Naturally, he stressed the importance of location and using a Realtor to sell a home. A house like the one for sale in Clifton may sell without much of a problem in Great Falls or McLean, but the owner may have a more difficult time in Clifton because of the distance to Washington or commercial areas, he said.
"Also, if you're in McLean, you can look around and see other homes of the same value," he said. "In Clifton, you don't have much to compare a house of that price to."
Experts are hopeful the market will begin to stabilize and turn around as early as next year, but some admit it may take a little longer, as real estate market trends tend to go in 10-year cycles.
"I think our housing prices are firming up now," said Dr. Stephen Fuller, director of the Center for Regional Analysis at George Mason University.
"For the first time in September, we had new listings outnumbered by home sales," Fuller said. "Fixed-rate mortgages are less expensive now than they were a year ago, and this time next year they might be more expensive."
The time to buy is now, Fuller said, if a person has the right credit and money ready to hand over.
He blames a "greedy" banking environment for the sub-prime loan problems and taking advantage of people who could not afford their mortgages in the first place.
"I think many of those people are trying to save their homes by refinancing now, and banks know a vacant house is like an illness that can bring down the value of the neighborhood," Fuller said.