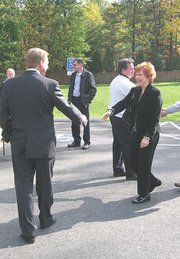 With cold hands and bright smiles, volunteers from both the Republican and Democratic sides of the aisle went to the polls on Election Day to hand out sample ballots and answer any last-minute questions about the candidates.
Numbers were low at Lorton Station Elementary School early in the day, with only 150 voters by 11 a.m., said Democratic volunteer Sherry Dana.
"People seem very decided in this precinct," she said. "They seemed very focused on the Democratic Party. I think we're ready for a change."
Dana was also handing out a blue instruction sheet, asking Democratic voters to write-in former House of Delegates candidate Greg Werkheiser against Delegate Dave Albo (R-42), who is unopposed this year.
On the other side, Republican volunteer James Wallen said that while turnout seemed a little light, most people who walked by appeared to know who they wanted to vote for without asking many questions.
Wallen said he was most interested in the race for the Clerk of the Fairfax County Court, a competition he thought many people were unaware of before Election Day.
"I know John Frey, he's a good man with a good record," he said. "He's been recognized by his peers for his reputation. I think he's a man of integrity."
Voter Taz Tareque said he was compelled to vote because he wants to see things change.
"There's a lot of turmoil right now in this country and in this county," he said. "Change needs to come around but it cannot happen without voters."
At Antioch Baptist Church in Fairfax Station, Dr. Sue Anne Lewine said she was inspired to volunteer at the polls because of Del. Tim Hugo (R-40), who was standing a few feet away.
"I've lived here for six years and I've never seen him before. I've never met him and he's my delegate," she said, handing out Democratic ballots.
Many of the voters she spoke with seemed to know who they were going to vote for, and Lewine said it was too early to tell which way certain races would fall.
"I think people are voting for a change to make traffic better," she said. "It's good to see the process working locally and it's really nice to have good candidates for a change."
At the Republican table, Marianne Gearhart said she was pleased with the turnout of about 745 people by 1 p.m.
"There's been a steady flow of people all day," she said. "People are out to support their candidates and we appreciate that."
Both Rex Simmons and Hugo, the candidates for the 40th District seat in the House of Delegates, were at Antioch Baptist Church, shaking hands with voters and thanking them for their support.
Jim Harden of Fairfax Station said he always votes, regardless of the issues, because to him, It is an important part of being an American citizen.
"Issue-wise, I think the transportation bill is pretty important," Harden said. "But I know Rex, he's a good guy, and a friend of mine is running for School Board, so I had to support them."
As usual, there were lines of people passing out information at Clifton Elementary School, the only polling place for the small town.
"I think things are going very well," said Democrat Linda Goldstein, prepared for the blustery day with a black hooded coat. "There's no indecisiveness with the voters, they know who they want and who they don't. I've seen a lot of people I've known for years and they told me this is the first time they're voting," she said.
On the other side of the sidewalk, Elizabeth Schultz, president of the Republican Women of Clifton, was busy handing out sample ballots and making up packets for other volunteers to distribute.
"We've given out a tremendous amount of literature and I'm extremely pleased," she said.
Schultz applauded the candidates for making their positions on the issues clear, which will help the voters make their decision.
"It's the local races that effect our daily lives," she said. "It's the 27 seats open now that will effect our transportation, our taxes and our schools."
MAKING A mid-afternoon appearance, Sen. Jay O'Brien (R-39) was optimistic he'd be returning to Richmond, instead of his challenger, George Barker (D).
"This is my third precinct today and I'm feeling pretty good," O'Brien said.
In the last few weeks before the election, O'Brien said he had spent time with Pat Herrity, the Republican candidate for the Springfield supervisors seat, and State Sen. Ken Cuccinelli (R-37), working together on their campaigns and creating a unified platform of work if they all go to Richmond in January.
"Some of the issues, especially with transportation and illegal immigration, we all have the same position on and we've been working together as a team," he said.
Jane Barker, on the other hand, was sure husband George would be the one in Richmond.
"I've supported him all along because I think he's a great candidate," she said. "I think he'd be a great senator. This is shaping up to be a big year for the Democrats."
After voting, Jane German said she felt she had done what all good citizens should do on Election Day.
"I think it is the obligation of every American to vote," she said. "People died for that right and they are still dying for that right. If we don't use it, maybe we shouldn't have it."