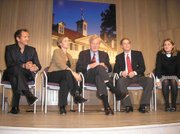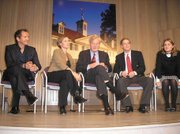 Is the use of a little creative license when dealing with an historical event for a motion picture good or bad? Which is more important sticking strictly to historical facts or adding some entertainment elements to enhance the point of a history film?
Those two questions were answered emphatically by a panel composed of an actor, movie producer, movie director, historic researcher, nationally recognized history teacher, and the executive director of one of America's most revered sites. And, they were all in agreement.
"A movie made just to tell an historical story is boring. You have to make it interesting or it won't accomplish its goal," said Jon Turteltaub, director of "National Treasure" and "National Treasure Two:Book of Secrets." The latter is due to be released December 22.
"If you want to tell people the most about a particular historical event or individual, a movie is a great way to do it as long as it is interesting. When we made the movie "We fight to Be Free" for the new education center we were told not to make it sterile. Make George Washington real -- not the face on the dollar bill," said James Rees, executive director, Mount Vernon Estate and Gardens.
"What we create on celluloid truly recreates history. What I really drew from portraying George Washington was his true character and inner strength," said actor Sebastian Roche who portrays Washington in the film "We Fight to Be Free" and has brought to life other historical characters during his career.
"Teachers are teaching their students to be historians -- not just to learn and memorize historical facts. For that they have to be excited about the subject and films do that," said middle school history teacher Stacia Smith.
"History is the story of actual people with all their strengths and weaknesses. Film can bring that to life and show how they dealt with the challenges of their era," said Libby O'Connell, chief historian, The History Channel.
They, plus award winning movie and television producer Jerry Bruckheimer, were all part of a panel moderated by MSNBC's Hardball host Chris Matthews at Mount Vernon Estate November 28 as part of a live special television broadcast entitled "From History to Hollywood" which was aired nationally by Fairfax County Public Schools. It explored the impact of the entertainment industry when it focuses on historical incidents and characters and how that affects the teaching of history in the classroom.
Both Bruckheimer and Turteltaub joined the debate through pre-taped, visual question and answer sequences giving their opinions on various aspects of the discussion. Also participating were teachers and students from various schools that packed the Robert H. and Clarice Smith Auditorium. Several students posed questions to the panelists.
THE ONE HOUR show was part of Mount Vernon's Distance Learning initiative, undertaken in partnership with Fairfax County Public Schools. This was the third broadcast to be hosted by Mount Vernon Estate since the October 2006 opening of the new high-tech classroom in the education center. It will be available free through the Fairfax Network (www.feps.edu/fairfaxnetwork) to pre-registered schools, school districts, and public education television stations.
An estimated 20 million plus teachers and students have watched these shows. Previous presentations have dealt with slavery and Washington's agricultural pursuits. The inaugural broadcast focused on the new education center and featured award winning author of "1776" David McCullough and newscaster Cokie Roberts.
This discussion concentrated on how Hollywood presents history. It asked the questions: Can popular culture be an effective tool in teaching history; and Whether there is a symbiotic relationship between Hollywood, historic sites, and today's classroom.
Use of those sites in films make history more tangible and realistic to viewers, according to Burkheimer. Part of "National Treasure Two: Book of Secrets" takes place at Mount Vernon Estate.
Some of those scenes involve the basement of the Mansion which has several hidden areas that make for great intrigue, according to Turteltaub. It was also in the use of that area that Hollywood chose to exercise its creative license.
That particularly applies to a scene where a tunnel is used to make "a creative escape," according to Rees. "I'm sure we'll now be deluged with people wanting to know about the tunnel. I wouldn't be surprised if there are people up there right now searching for it," he said sitting on stage next to Matthews.
There is no tunnel, Rees assured the audience. But then, Washington was known for his spy capabilities and clandestine moves. Just ask the Hessians. That wasn't Santa who showed up on Christmas.